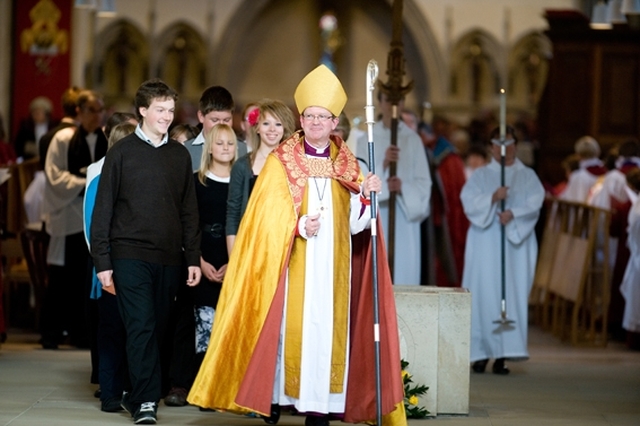 Biography of Bishop Christopher
The Rt Rev Christopher Foster has been Bishop of Portsmouth since September 2010.
Since arriving in the diocese he has led the development of a framework for outreach and service in the parishes, chaplaincies and communities of south-east Hampshire and the Isle of Wight. live | pray | serve is our diocese's strategy, unveiled in 2015-16, aiming for (and seeing) numerical and spiritual growth by 2021.
He has particularly become involved where the church or other groups are seeking to support those in poverty, unemployment or need and each year the Bishop's Lent Appeal has focused on local and national challenges such as food poverty, homelessness and debt.
Among his wider responsibilities he is the Chair of the Directors (and Convenor of the Enabling Group) of Churches Together in England, the umbrella grouping of 40+ Christian denominations, a governor of the University of Portsmouth, and a member of the Dioceses Commission, charged with considering national structural issues.
In the House of Lords, where he was introduced as a Lord Spiritual in 2014, he speaks particularly on the economy and about welfare and benefit issues.
Bishop Christopher grew up in the industrial West Midlands and in Surrey before studying economics at Durham and Manchester Universities and briefly working as an economics lecturer.
He studied at Westcott House and Trinity Hall, Cambridge, before his ordination in 1980. He was a curate in Wolverhampton before he became chaplain of Wadham College, Oxford and on the staff of the University Church. He then became vicar of Christ Church, Southgate, in London (serving additionally as director of clergy continuing education), and then Sub Dean and residentiary canon at St Albans Cathedral in 1994.
He was consecrated as Bishop of Hertford in 2001, one of two suffragan (assistant) bishops in the diocese of St Albans. There he was Warden of Readers in the diocese, leading the training and work of licensed lay ministers, chaired the Mission and Pastoral Committee, and was especially involved with outreach among young people and the encouragement of their ministry and leadership.
He married Sally, who is also ordained, in 2006 following the death of his first wife, Julia, in 2001. He has two grown-up children, Richard and Miriam.
Bishop Christopher is the ninth Bishop of Portsmouth, succeeding the Rt Revd Dr Kenneth Stevenson who was bishop for 14 years.