Haiti Hurricanes and Hope
---
Start date

3 Mar 2018, 1:30 p.m.

End date

3 Mar 2018, 3 p.m.

Location

St Johns road, PO30 1LN Newport, Isle of Wight

Share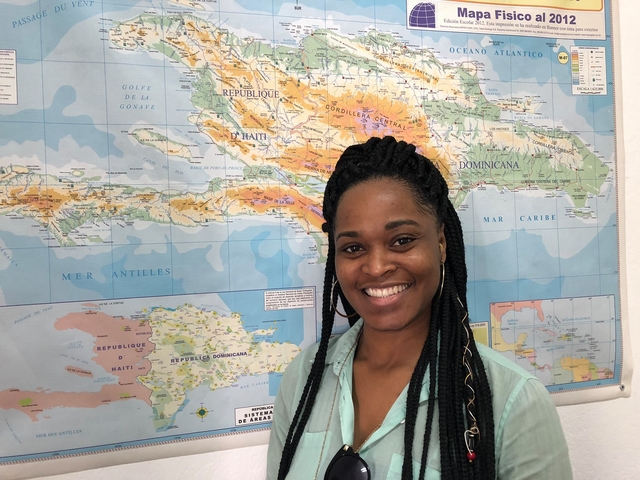 "Together we are stronger than the storms"
Haiti has been hit by hurricane after hurricane. Many Haitians now live in unsafe homes. Come along and hear from Victoria Jean-Louis, Christian Aid's Emergency Programme officer in Haiti. She will share her experiences of how your donations can help to build houses that can weather the storms.

This is a free event that is open to all. No need to book - just come along.
We are very much looking forward to the arrival of our colleague Victoria Jean Louis from Christian Aid's Haiti team later this month who is touring the region on a whirlwind visit sharing her experiences of living and working in what is the Western hemisphere's poorest country. She will talk about the impact of the 2010 earthquake (following which 38,000 people are still displaced) and Hurricane Matthew, which wreaked further havoc across the south of the country in November 2016 destroying up to 90% of property in some areas. Christian Aid is working with local organisations to build storm resilient homes and help farmers change agricultural practices to adapt to climate change.
"Hearing Victoria speak will no doubt be sobering, but also inspiring as we hear of the impact of our work in Haiti where we walk alongside communities, listen to their needs and provide the urgently-needed tools to get back on their feet and thrive.
"Everyone is welcome to come and hear Victoria speak and be part of bringing about change as we #cometogether in the run up to Christian Aid Week."
The presentation and question and answer session at St John's Church Newport will be from 1:30 to 3:00pm on Saturday 3rd March. All are welcome.
Christian Aid Week was set up over 60 years ago and is Britain's longest-standing door-to-door fundraising week.