Royal Wedding Fayre - St Peter's, Curdridge
---
Start date

9 Jun 2018, 1 a.m.

End date

9 Jun 2018, midnight

Location

St Peter's Church, Curdridge, SO32 2DR
Bishop's Waltham

Share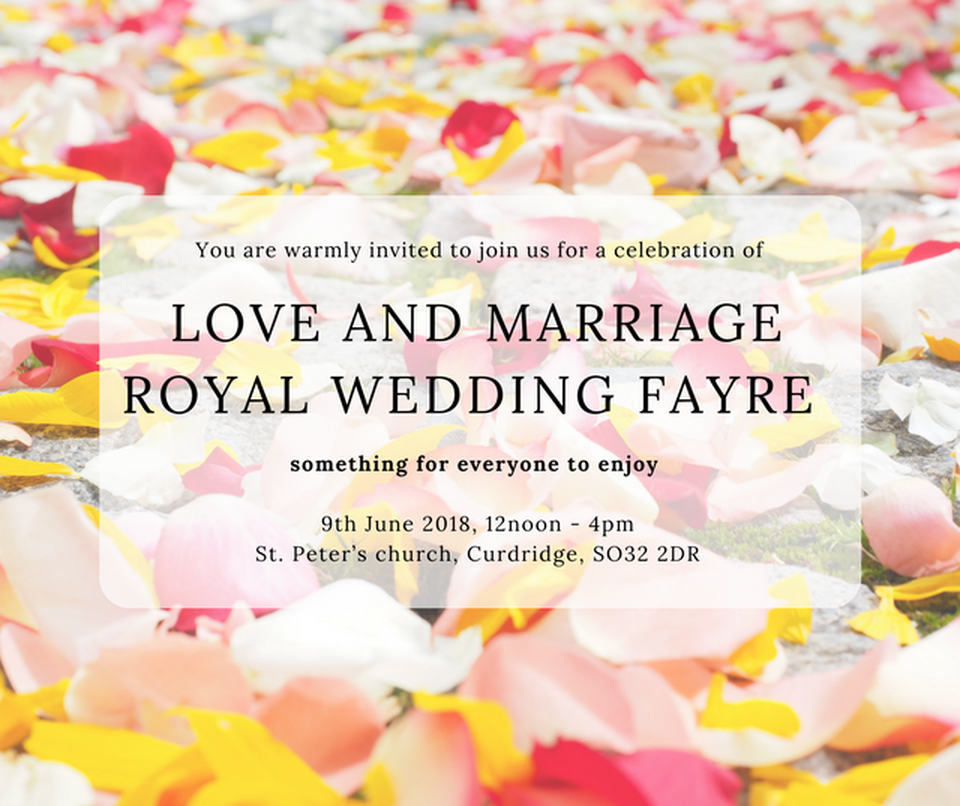 The 9th June is definitely a date for your diary
There will be wedding and occasion themed:
Stalls
Hats
Jewellery
gift stalls
cakes
plants
some wedding booty for brides-to -be to help resource their wedding decorations at a reasonable cost.
You can raise a glass
to the royal newly weds with a selection of drinks:
local brewed beer
IOW cherry juice
Pimms
or Prosecco.
The "Wedding Breakfast" will be a tasty barbecue and there will be afternoon teas served.
The occasion will start with church bells ringing, fitting for the Queen's birthday, and there will be live music all afternoon including:
Strings
Vocalist
Gospel choir
Hymn/music requests played by the organist.
There will be a chance to renew your own wedding vows in a beautifully decorated church and to have a slice of wedding cake and Prosecco after. You do not have to have been married in St. Peters to be part of this.
The cake will be cut for us by a local couple who have been married for nearly as long as our Queen and Duke of Edinburgh.
Exhibited in the church will be:
illuminated manuscripts
vintage wedding dresses
wedding fashion displays
a gallery of photos of couples who have been married in St. Peter's over the years.
Outside there will be a bouncy castle for the children.
With something for everyone to enjoy or to participate in, plus a few little Royal surprises on the day
We look forward to seeing you for a great afternoon celebrating together
Further information, contact annaclayton99@gmail.com
---
Calling all bakers, candle makers, knitters, photographers, florists, card makers, embroiderers, artists, jewellers, make-up artists, manicurists, hairdressers and hobbyists of all kinds.
Take a table-top for just a £10 donation and showcase your skills with a wedding theme to help make our Royal Wedding Fayre on 9th June a right royal Curdridge celebration.
For businesses wanting to join in the fun a donation of just £30 for a table-top will ensure that your literature, testimonials and products reach some of those planning weddings for the future.
Why not hire a table top at St. Peter's Royal Wedding Fayre and sell your preloved items onto a bride to be.
If you have recently been married or know anyone who has, then there is probably a cupboard full of wedding decorations etc that you are storing and not sure when you will use again. This will also be a great place to sell on your bridesmaids dresses or other bridal items.
Share your photos
We are also inviting anyone who has married at St. Peter's to share their photos of their happy day to be included in a portfolio of memories to enhance our Fayre and the 130th anniversary of St. Peter's.
---