Come and Sing, with Bob Chilcott
---
Start date

14 Sep 2019, 10:30 a.m.

End date

14 Sep 2019, 4:30 p.m.

Location

Portsmouth Cathedral, High St, Portsmouth PO1 2HA
Portsmouth

Share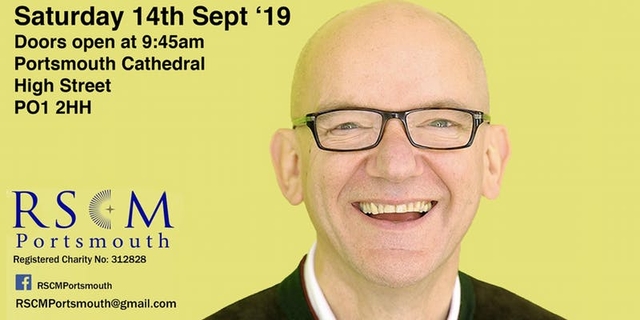 Whether you are young or old, an experienced chorister who can read music fluently or are new to choral singing, we welcome you to this opportunity to enjoy a day singing in the glorious acoustic of Portsmouth Cathedral. Enjoy an exciting range of new and known repertoire and brush up your vocal technique under the inspiring leadership and direction of Bob Chilcott.
Details
Date: Saturday 14th September
Time: 10:30 am to 4:30 pm (doors open at 9:45 am)
Venue: Portsmouth Cathedral
Tickets
Standard Adult, non RSCM member = £20
Standard Child, non RSCM member = £9
Adult RSCM member = £13
Child RSCM member = £0
Prices will go up by £2 a ticket from July 1st.
Any Independent or any member of an Affiliated choir of the RSCM can receive a discount on the price of tickets. Membership will be checked after payment. Please check with your choir leader whether the choir is an RSCM member. If you are still unsure, please contact rscmportsmouth@gmail.com.
Booking
Book using the Eventbrite website, where further information is also available.
About Bob Chilcott
Bob Chilcott has been called "A contemporary hero of British choral music" – The Observer.
He is a composer, conductor and singer and has been involved with choral music since he was a child. He was a chorister and choral scholar in the choir of King's College, Cambridge and was a member of the King's Singers for 12 years.
He has been a full time composer since 1997 and has a large catalogue of music to his name.
He has conducted choirs in many different countries and has worked with thousands of singers, his music having been recorded by many well-known choirs and singing groups.
Portsmouth Cathedral
---
St Thomas's Street Old Portsmouth, PO1 2HH
Upcoming Events
---
22 August, IN: Social

St Mary's Church, within Portchester Castle, has wonderful acoustics and is widely known for its ... read more

12 September, IN: Social

A concert held by the Royal Marine School of Music at the Church. The start ... read more

14 September, IN: Social

Whether you are young or old, an experienced chorister who can read music fluently or ... read more