Digital Marketing Workshop for Churches
---
Start date

24 Feb 2020, 10:30 a.m.

End date

24 Feb 2020, 2 p.m.

Location

Google Digital Garage, 105a Commercial Road, Portsmouth PO1 1BQ
Portsmouth

Share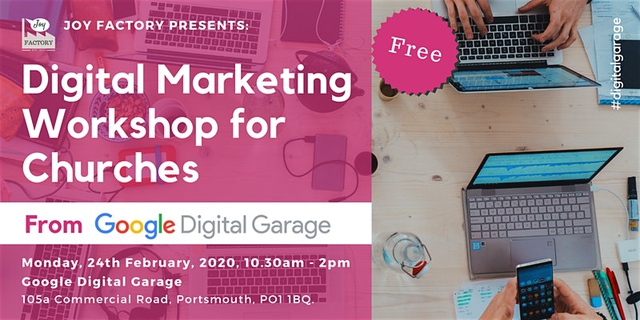 Digital Marketing Workshop for Churches from Google Digital Garage – learn how to create a marketing strategy and be more visible online.
Would you like to learn how to get the most out of your church website and social media in the least time, straight from the experts from Google?
Do you want to make it easier for people to find out about your events, or for that matter, how to find your actual building?
Would you like some more ideas on what to write on social media?
Come to an interactive, practical and fun session, led by Google trainers, and learn how to create a digital marketing strategy, and how to be more visible online, especially on Google!
If you are a church leader, clergy, administrator, designer, social media manager then this free event is for you.
Details
Date: Monday 24th February
Time: 10:30am to 2pm
Venue: Google Digital Garage, Commercial Road, Portsmouth
Upcoming Events
---
07 March, IN: Social

Passionate about tackling social problems? Want to make a difference to communities, people's lives or ... read more

READER TRAINING: The event will give practical and theological perspectives on good liturgical practice for ... read more

This day will focus on refreshing and re-energising our existing worship and introducing new forms ... read more