Ordination of Priests 2021
---
Start date

26 Jun 2021, 4 p.m.

End date

26 Jun 2021, 5 p.m.

Location

Portsmouth Cathedral, High St, Portsmouth PO1 2HA
Portsmouth

Share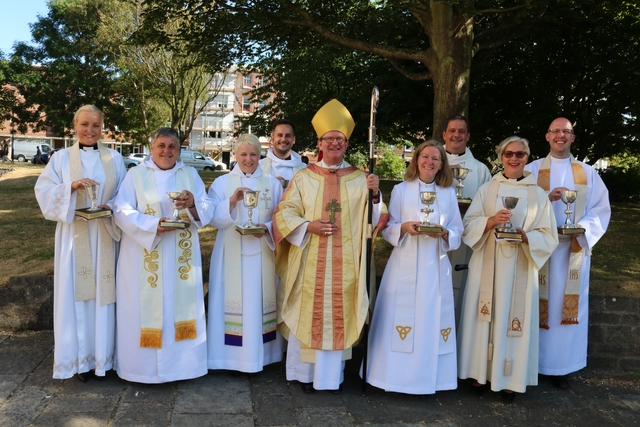 Three new priests will be ordained at this special service in our cathedral.
The candidates have all previously been ordained as a deacon and spent at least one year serving a parish in that capacity. They are now ready to be ordained as priests, which means they'll be able to celebrate Communion. They will continue to serve as curates in parishes throughout our diocese.
They are:
Rev Hannah Barraclough (The Benefice of Newport Minster, St John and Carisbrooke)
Rev Catherine Edenborough (The Cathedral Church of St Thomas of Canterbury)
Rev Matthew Grove (Portsdown, Christ Church and Purbrook, St John the Baptist)
Attendance at this service is by invitation only because of Covid restrictions, but it will be live-streamed on the diocese's Youtube channel.
Portsmouth Cathedral
---
St Thomas's Street Old Portsmouth, PO1 2HH
Latest News
---
8 April 2020

Our diocese and Ripon College, Cuddesdon, have announced a new Director of Portsmouth Pathway, their ... read more

25 June 2019

A diagnosis of cancer changed everything for Erica Wilkie – including an unexpected chance to ... read more

28 June 2018

A husband and wife will share the role of curate in one of our churches ... read more