Portsmouth Cathedral Institute
---
Start date

10 Jul 2021, 10 a.m.

End date

10 Jul 2021, 3:30 p.m.

Location

Portsmouth Cathedral, High St, Portsmouth PO1 2HA
Portsmouth

Share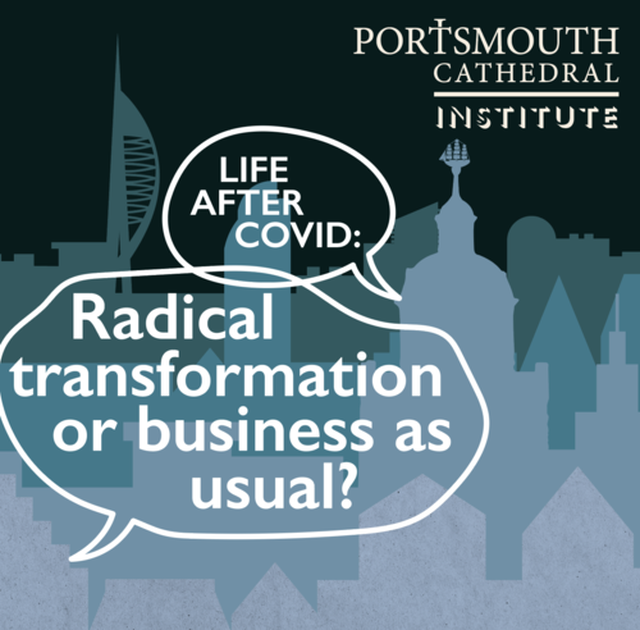 Join us at Portsmouth Cathedral with Dame Clare Moriarty and Sir Jonathan Montgomery on Saturday 10th July to discuss how we can create a fairer future from our Covid experiences in the first of our Portsmouth Cathedral Institute events. Chaired by the Dean, we welcome those from across our city to join us and help plan how we can create a fairer future from our experiences.
Speakers include
Professor Sir Jonathan Montgomery is co-chair of the Moral and Ethical Advisory Group in the Department of Health and Social Care about the challenges we have faced up to.
Dame Clare Moriarty is Chief Executive of Citizens Advice and formerly the first Faith and Belief Champion for the Civil Service, on the opportunities for us to reshape society for the better.
This free event is open to all, book a ticket online and join us on 10 July 2021. Find out more about the new Portsmouth Cathedral Institute and more events as they are announced on our website.
Details
Date: Saturday 10th July
Time: 10am to 3:30pm
Venue: Portsmouth Cathedral
Portsmouth Cathedral
---
St Thomas's Street Old Portsmouth, PO1 2HH
Upcoming Events
---
Four specialists in their field share their expertise in this unique, wide-ranging webinar series, hosted ... read more

Four specialists in their field share their expertise in this unique, wide-ranging webinar series, hosted ... read more

Introductory Day with Eeva John. read more