'Come and Sing' Festival Choral Evensong
---
Start date

17 Jul 2022, 1:30 p.m.

End date

17 Jul 2022, 5:30 p.m.

Location

St Mary's Church, Fratton Road, Fratton, Portsmouth PO1 5PA
Portsmouth

Share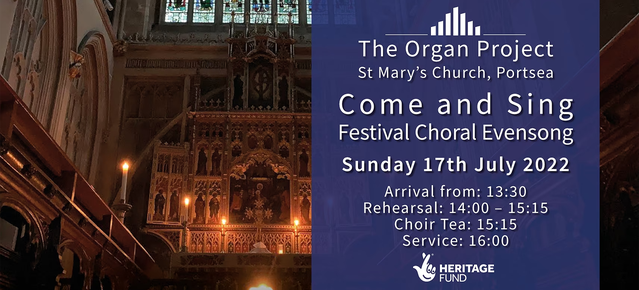 Join us for a 'Come and Sing' Festival Choral Evensong, celebrating the completed restoration of our 1889 J.W. Walker & Sons Ltd. pipe organ.
Introit: Cantate Domino (Moles)
Responses: Ayleward
Psalm 81
Office Hymn: Sing Ye Faithful, Sing with Gladness
Setting: Wood in D
Anthem: Blessed City Heavenly Salem (Bairstow)
Psalm 150 (Stanford)
Arrival from 1:30pm (plenty of onsite parking); rehearsal from 2pm to 3:15pm; 3:15pm choir tea; service starts at 4pm. Robes and any accompanying academic dress may be worn for the service.
If you are able, please also join us on Saturday 16th July for our Dedication Service and Inaugural Recital (FREE tickets can be booked here): https://theorganproject.org/dedication.
Upcoming Events
---
02 July, IN: Social

Armonico Consort makes a welcome return, this time accompanied by international wine expert, author and ... read more

09 July, IN: Music

Emsworth-based Renaissance Choir's "Protest" concert explores the ways in which protest against political or religious ... read more

11 July, IN: Music

Join worshipers and members of the local community as they dedicate their historic organ after ... read more