Taizé Services
---
Start date

2 Oct 2022, 8 p.m.

End date

4 Dec 2022, 8:40 p.m.

Location

Portsmouth Cathedral, High St, Portsmouth PO1 2HA
Portsmouth

Share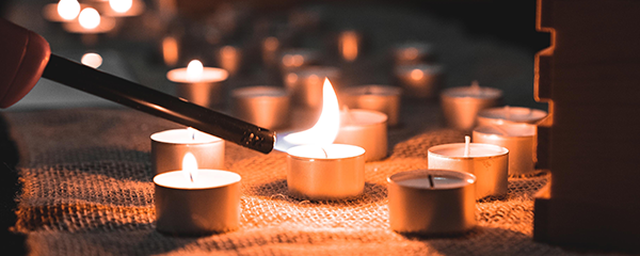 The popular Taizé-style services will be resuming at Portsmouth Cathedral on Sunday evenings starting at 8pm.
Taizé-style worship offers an opportunity for peace and quiet, for stillness and reassurance.
We meet in the Cathedral in the Nave at 8pm to join in Taizé songs and chants and be led in prayer with a time of quiet reflection and meditation. The service usually lasts about 40 minutes.
The dates for Autumn 2022 will be:
Sunday 4th September
Sunday 2nd October
Sunday 6th November
Sunday 4th December
All welcome.
For further information, please contact: The Cathedral Office, St Thomas's Street, Old Portsmouth PO1 2HA. 023 9282 3300, email, website.
Portsmouth Cathedral
---
St Thomas's Street Old Portsmouth, PO1 2HH
Upcoming Events
---
02 October, IN: Worship

Taizé-style worship offers an opportunity for peace and quiet, for stillness and reassurance. read more

An opportunity to remember loved ones and raise funds for Mountbatten. read more
Upcoming Events
---
02 October, IN: Worship

Taizé-style worship offers an opportunity for peace and quiet, for stillness and reassurance. read more

29 October, IN: Worship

The Portsmouth Choral Union, with The Renaissance Choir, present Rachmaninov's All-night Vigil (Vespers). read more

Meeting of Diocesan Synod. read more