Locks Heath Christmas Tree Festival
---
Start date

1 Dec 2022, 10 a.m.

End date

4 Dec 2022, 4:30 p.m.

Location

St John's Church, Church Road, Locks Heath, SO31 6LW
Fareham

Share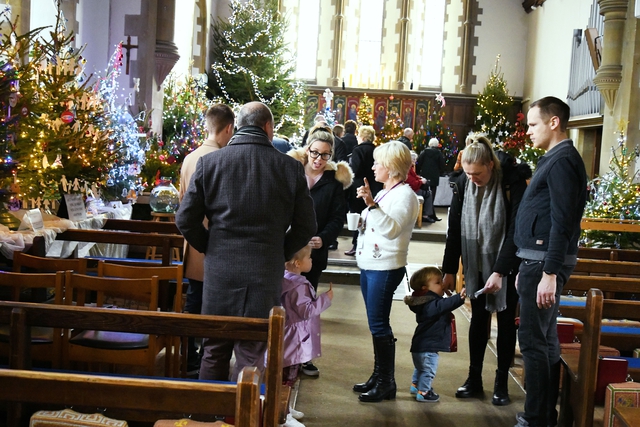 (photo: Laura Scottorn)
St John's Church, Locks Heath welcomes you to a Christmas tree festival for 2022. This will be the fourth festival at St John's. The first was in 2008 and the last one in 2019, just before the pandemic.
Join worshippers to see dozens of decorated Christmas trees in a tranquil environment. In 2019, more than 3,400 people of all ages visited the festival to see the 50 trees. This year, organisers are opening up the church further and aim to have even more trees on display. The theme is 'Celebrations', and the festival also aims to celebrate our faith, and will publicise the many groups on offer at the church – from toddlers to teenagers, and from fellowship to faith groups.
The festival will also feature a wide range of community groups, choirs singing, nursery groups, schools, care homes and all ages in between taking part. Entrance and refreshments are free. All donations are shared between Fareham and Gosport Basics Bank and Two Saints – a charity in Southampton that supports homeless people.
Bishop Jonathan is opening the festival
Opening times:
Thursday 1st December: 10am to 7pm
Friday 2nd December: 10am to 7pm
Saturday 3rd December: 10am to 7pm
Sunday 4th December: 1pm to 4pm, with closing service at 4:30pm.
Upcoming Events
---
01 December, IN: Social

A Christmas tree festival hosted by St John's Church, Locks Heath, from December 1-4. Join ... read more

02 December, IN: Social

Christmas tree festival and concerts. read more

02 December, IN: Social

Leigh Park and Warren Park Community Panto Players present Jack and the Beanstalk. read more