Music of Solace and Tranquility
---
Start date

25 Mar 2023, 7:30 p.m.

End date

25 Mar 2023, 9:30 p.m.

Location

St Peter's Church, Church Path, The Square, Petersfield GU32 3HS
Petersfield

Share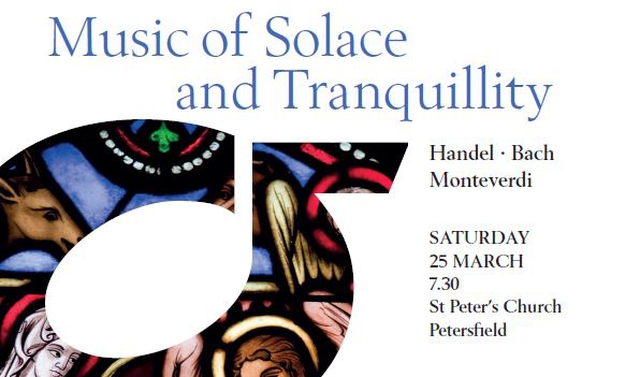 This concert promises to be full of sublime, reflective music by a wide variety of composers from Monteverdi and Handel to living composers. One of the latter is James MacMillan, whose music is evocative, poignant and immediately appealing to its audience. The programme also contains vocal solos and duets and instrumental pieces for flute and recorder.
Saturday 25th March
7:30pm
St Peter's CHurch, Petersfield
Admission is free with a retiring collection in aid of The Rosemary Foundation.
St Peter's Petersfield
---
St Peter's Church, Church Path, The Square Petersfield, GU32 3HS
Upcoming Events
---
25 March, IN: Music

This concert promises to be full of sublime, reflective music by a wide variety of ... read more

26 March, IN: Music

Spring concert performed by the. Botley Choral Society, with music by Rutter, Shearing and Coleman. read more

01 April, IN: Music

The St Matthew Passion is a passion oratorio, which sets to music the 26th and ... read more