Havant Passion Play
---
Start date

15 Aug 2023, 6 p.m.

End date

20 Aug 2023, 1 p.m.

Location

Staunton Country Park, Havant
Havant

Share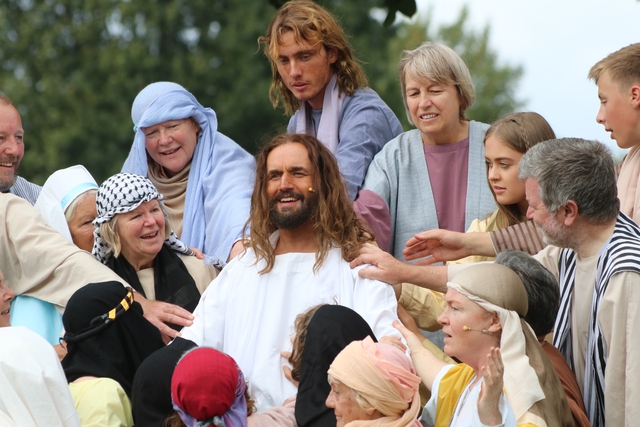 Amateur actors tell the story of Jesus's life, death and resurrection in the first Havant Passion Play for four years.
They'll stage episodes from Jesus's life in the stunning grounds of Staunton Country Park in Havant. Its trees, rolling fields, lake and terrace will give an amazing backdrop for the greatest story ever told. Some of the performances will be promenade performances - the audience will move alongside the action. Some will be static performances, where the audience can remain in one place.
Dates are times are as follows:
Tuesday 15 August, 6pm: Promenade
Wednesday 16 August, 6pm: Promenade
Thursday 17 August, 6pm: Promenade
Friday 18 August, 6pm: Promenade
Saturday 19 August, 12noon: Static
Sunday 20 August, 12noon: Static
The play will be directed, as before, by James Burke-Dunsmore, who's taken the role of Jesus on numerous occasions in Trafalgar Square, Wintershall and across the world. Havant Passion Play are looking for a new actor to take on the role of Jesus, as well as volunteers to act, work backstage and help out.
Workshops to develop the script will take place at Havant Methodist Church on the following dates:
Saturday 4th March (10am-12noon and 1pm-4pm),
Sunday 5th March (2pm-5pm)
Saturday 11th March (10am-12noon and 1pm-4pm)
Sunday 12th March (2pm-5pm)
Rehearsals will take place each weekend evening, starting on July 2nd, and continuing to the performance dates.
More details about the show, and about how to volunteer, are available on www.havantpassionplay.org.uk.
Highlights from the previous Havant Passion Play - entitled 'Behold the Man' - which took place in summer 2019, are below:
Upcoming Events
---
Worshippers from St John's Church and pupils from St John the Baptist Primary School are ... read more

15 August, IN: Mission

The Havant Passion Play returns, with a new performance telling the story of Jesus's life, ... read more