Michaelmas ordinations
---
Start date

30 Sep 2023, 11 a.m.

End date

30 Sep 2023, 12:30 p.m.

Location

Portsmouth Cathedral, High St, Portsmouth PO1 2HA
Portsmouth

Share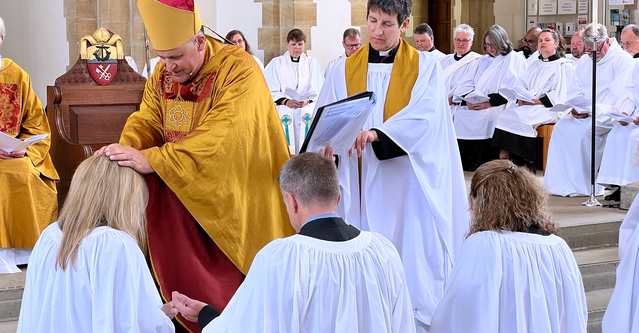 Bishop Jonathan will ordain the following people as deacons in our cathedral. Those ordained deacon will be given the title 'the Reverend', and be able to wear a dog collar and lead services as an assistant curate in their parish.
Karen Crowhurst (to serve at St Blasius, Shanklin)
Coleen Jackson (Blendworth, Chalton and Idsworth)
Clare King (Holy Trinity, Bembridge) - read more about Clare here.
Nicola Pinnock (St Catherine, Ventnor) – being ordained as a distinctive deacon
Bevaly Rackett (St Mary, Brading)
Richard Shurmer (St Cuthbert's, Copnor, with St Aidan's, Anchorage Park)
Larry Stone (Harbour Church)
Download the Ember List here.
Portsmouth Cathedral
---
St Thomas's Street Old Portsmouth, PO1 2HH
Upcoming Events
---
30 September, IN: Worship

Bishop Jonathan will ordain seven ordinands as deacons in our cathedral. They'll go on to ... read more

01 October, IN: Worship

Taizé-style worship offers an opportunity for peace and quiet, for stillness and reassurance. read more

Following on from the Introduction to the Enneagram offered in 2022, this session further explains ... read more