Building a Healthy Worship Team
---
Start date

7 Oct 2023, 2 p.m.

End date

7 Oct 2023, 4:30 p.m.

Location

Holy Rood Church, Gosport Road, Stubbington PO14 2AS
Fareham

Share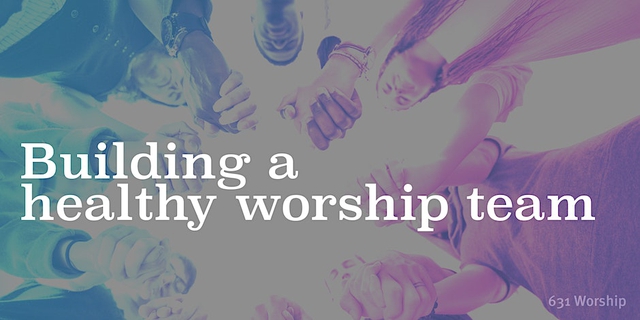 Worship teams come in all shapes and sizes, and they all face the same challenges:
varying degrees of experience, skill, and confidence;
members juggling various commitments;
a heady mix of ideas, influences, and priorities from within and outside the team;
limited resources;
you have a deep longing: to see congregations flourish in worship; but that longing is often battered or weighed down by minimal engagement and indifference.
Worship teams play an essential role in leading people to express unified congregational worship. They minister to both natural and spiritual needs and can be used by the Holy Spirit to bring people into God's presence and carry His presence to all people, even beyond the in-person space they're leading in thanks to streaming technology.
Where does the strength to do this come from? Is it based on musicianship? Or experience? Will worship in your church only get better when you have a bigger team? Or use the latest songs?
The aim of this training session for worship teams of all styles and denominations is to inspire thinking and discussion about what makes a healthy worship team and how to build one. We'll hear from a few different team leaders sharing their experience of building their teams, and we'll have the chance to discuss these themes and some of the questions that arise with worship team members from around the area.
Who is it for?
This training session is for all members of worship and tech teams – everyone who is in some way involved with the contemporary worship that happens at your church each Sunday (and at any other time).
It's free to attend. Refreshments will be available during the afternoon. There's also a Costa nearby.
When and where is it?
The training session takes place on Saturday 7th October, 2 pm to 4:30 pm, at Holy Rood Church in Stubbington.
There is limited parking on the church site, but there are public car parks within a 5-minute walk of the church (on Google Maps look for Stubbington car park, Longs Lane car park, or Crofton Community Association). There is also a bus stop across the road.
Booking
Click here book your place(s). You can book multiple people at once (up to 10) – please include their names and email addresses in the booking.
If you have any questions, please don't hesitate to get in touch. Organised by 631 Worship.
Holy Rood
---
Gosport Road, Stubbington, Crofton, PO14 2AS
Upcoming Events
---
29 September, IN: Training

A discipleship course tailored for anyone wishing to learn more about Christianity, or ideal preparation ... read more

Following on from the Introduction to the Enneagram offered in 2022, this session further explains ... read more

Hear from experienced worship team leaders about what makes a healthy and flourishing worship team, ... read more