What will going to church look like this winter?
On Saturday 31st October, the government announced a second lockdown for England would take place for at least 4 weeks from November 5th. The guidance initially released said that, although places of worship are not closed, their use would be limited to personal prayer, broadcast of live worship, and funerals, as well as child care and schools where the church building is used, and social care projects such as Foodbanks – you can read the guidance here. This means that for the next month at least, physical in-person services will no longer be taking place.
Worship hasn't been cancelled, rather churches will now be moving back fully, for now, to an online provision where they are able. You can find a list of parishes in our diocese that are live-streaming here, and you can also search using the achurchnearyou site to find out if your local parish is live-streaming. We aim to share as many live-streamed services on our Facebook Page as we can each Sunday, including the Cathedral's 11am sung Eucharist service.
Restrictions for those visiting churches for personal prayer still apply: social distancing, wearing face-coverings, and the recording of names and contact numbers for test and trace purposes. Opening times may vary as well. Why not find details of your nearest church via our Find a Church feature (just enter your postcode) and hopefully you can then contact that church before you go.
Meanwhile, many of our churches are still operating Foodbanks or other projects that aim to feed and support those in need. They are also providing pastoral support to individuals via phone calls and (where possible) visits.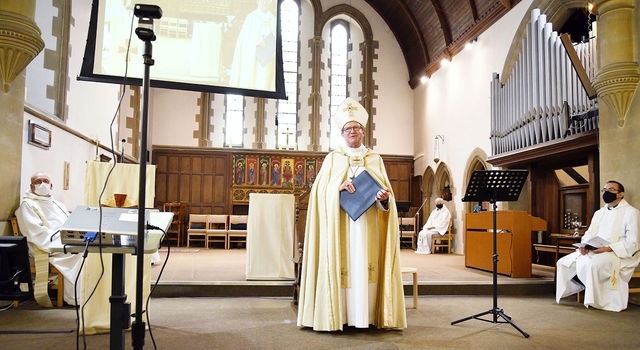 Watching online
Watching a church's digital service has the benefits of being to see what a church is like from the comfort of your sofa or kitchen table. Each parish's online provision will vary, depending on the technical skill and equipment they have available. Most will include familiar elements such as songs and hymns to sing along to, readings from the Bible, prayers for local and national situations, a message, and often also the Eucharist.
The diocese will continue to share Sunday morning worship from our cathedral, via our Facebook page. We'll often share digital worship from other churches on Sundays and midweek, so feel free to follow us here. There is a list of churches that are live-streaming digital worship, which you can access by hitting the link below:
How can you find something that appeals to you?
Most churches will have a website that should give clear details of how they are meeting, or not meeting, as lockdown restrictions ease. The easiest way to find out what your local church is doing is to use the A Church Near You website (ACNY), run by the national Church of England. This site lists every church in the country, and each church's listing shows when their weekly services are and how you can access them.
If you wanted to find a church that was streaming their services on Facebook, for instance, you can add your location to ACNY, and then use the search term live stream. You'll get back a map showing all the churches nearby that live stream their services, with links to view those churches and connect to the social media platforms and watch a recent service.
If a church is holding in-person services, these will be listed under their Services and Events.