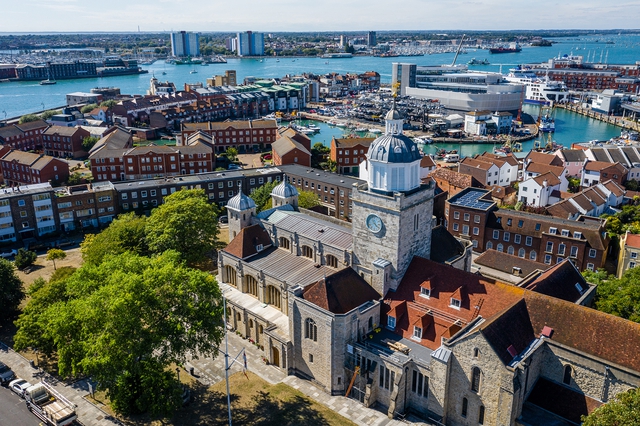 Frequently-asked questions: Live | Pray | Serve
---
Q: Is this a new vision?
No, it's a refresh of the Live | Pray | Serve vision that we have been living out since 2016. Together, we have been purposefully seeking to grow in depth, impact and number, as we live as disciples of Christ, pray individually and together, and serve our communities.
Living this vision through the pandemic has been challenging. Our church buildings have been forced to close for a time, we have been separated physically from those in our congregations and our communities, and as individuals and as churches we have faced uncertain financial futures.
Yet we have also seen wonderful opportunities for creatively engaging with our communities – sharing our faith in small groups online, and providing a range of digital worship that has attracted those who normally don't enter our buildings.
We have also seen people in our churches, often working with others in the community, stepping up to help those in need during this time; we have helped to feed, care for and support those who have been struggling.
Even before this eventful year, we were on a journey of change so that we can be thriving Christians and churches and able to live, pray and serve in the years ahead. The pandemic has sharpened our focus and resolve.
Q: Will this vision continue now that Bishop Christopher has retired?
Yes! As Bishop Christopher stepped back, he wanted to ensure that the diocese is ready for the developments of the next few years.
While the vision started with Bishop Christopher, it has now been further developed with the senior leadership team, the area deans, Bishop's Council and others, so it is a shared vision across a large number of people within the diocese. That is why Peter Leonard, Archdeacon of the Isle of Wight, together with a small team, is leading conversations about what the future can look like.
Q: How has our vision and strategy changed as a result of Covid?
Covid has brought particular challenges, but also opportunities for creatively engaging with our communities. We have engaged online with a variety of digital worship and reached out in new ways to meet our community where they need us. These experiences will inevitably alter our thinking of what the future Church will look like.
We are on a journey of change so that we can be thriving Christians and churches. As we shape the future together, we will seek to build on the wonderful opportunities that we have seen for creatively engaging with our communities over the past few months.
Q: So why did we relaunch it while we were still the middle of a pandemic?
We were actually just about to refresh this vision in March 2020 when the pandemic began, so there has been a pause on the process until recently. Covid has sharpened the need for this process, but the driving force behind it remains growth rather than our finances.
The post-pandemic world won't involve going back to 'normal' – our context will have been transformed by the Covid experience. And so it makes sense to start to reshape our mission and ministry now, so we are prepared for the new opportunities of a post-pandemic society.
Q: What preparations have already happened during the past few months?
We responded quickly where we needed to, such furloughing some diocesan central staff, and undergoing a subsequent round of restructuring, which included, unfortunately some redundancies among the diocesan lay staff team at the start of 2021. That was the first part of reorganising the life and ministry of the diocese with this vision in mind. This was a strategic process, not merely a cost-cutting exercise.
Q: How are you making sure you're listening to what will work locally?
When it comes to parishes, each parish knows best what is and is not working in their own parish and deanery. That's why the first phase of this process happened in deaneries. Each parish contributed to a discussion, led by area deans and deanery lay chairs, about how the life and ministry of the Church could be developed in their deanery. Those plans were presented to our senior staff and you can see some of the common trends in those plans by reading what happened at our Diocesan Synod in March 2021.
Our Bishop's Council then decided that we needed more time as a diocese to pray for and to discuss the way forward. They proposed that we spent the autumn engaging with God, and looking at the vision and the process in more detail. That started with some theological thinking by our Diocesan Synod in July 2021. We're organising a Day of Prayer, a Clergy and Lay Conference, and seven deanery conferences in September and October. You can read the detailed timetable here.
We want this to be a bottom-up, rather than a top-down process, so that we can all share and have faith in the process, as well as the end result.
Q: Are we changing things because we don't have enough money?
We all know that the past year or so has been particularly challenging for our finances and so, yes, we will need to think carefully about how we use the resources we have most effectively.
However, we are not being led by the financial situation – but by the vision of being thriving Christians and churches, enabled to live, pray and serve in the years ahead. As and when we need to make financial decisions, we do so by being led first by this vision.
That process has already started with the restructuring of our central staff, which aimed to create a team who would be poised and ready to advise and support parishes, schools and chaplaincies in this new context.
Q: Does it involve cutting back the number of clergy?
It might. But that is not our starting point. Our starting point is our vision for what a thriving diocese might look like in the future. In order to do this, part of our vision is to free clergy up to live out their calling – and to free them from the many logistical and administrative roles that they often have to carry out in traditional parish ministry.
We want to empower ministry teams to find new ways of doing things, which brings the opportunity for joining together across parishes where expertise and administrative burdens can be shared, and a strong sense of identity can be built together.
As Bishop Christopher says in his video, change isn't easy. We recognise the anxiety any process of change inevitably involves for clergy, their families and our congregations. That's one reason why the initial conversations relating to this were held within deaneries, with full consultation with those involved. This inevitably involves some uncertainty and takes some time. However, this kind of consultation is essential before any decisions are taken.
Q: Are we still going to have parish ministry?
Yes, absolutely! The Church of England is committed to parish ministry, providing churches that serve their local communities. This process is about ensuring that the churches provide what our local communities need in 2021 and beyond, which may look different to what has gone before.
Those parishes may be different to what exists now, perhaps with more clergy and lay people working together as a team over a larger geographical area. You can see what that might look like by watching the presentation made to our Diocesan Synod in March 2021 here.
Q: Are you planning to make any clergy redundant as you create these new team ministries?
That isn't our intention. It's true that we can't afford to have as many stipendiary clergy posts as we did, partly due to the reduction in income exacerbated by the Covid pandemic. We are trying to manage this reduction through natural moves as much as possible. As we look to create new parish structures with team ministries, we'll be creating a variety of different roles within each team. We'll seek to designate people into those roles, wherever possible.
Q: Why is the diocese exploring formal team ministries, rather than a looser working arrangement between parishes?
We recognise that clergy and lay people have different gifts and strengths, and that collaborating in a team makes use of people's specialist skills and allows them to focus on those strengths. A good team has clear leadership, a shared vision and values, and each member of the team has a clear role and responsibility. Working together across traditional parish boundaries can allow our clergy and laity to be released to perform the specific role that God has called them to do. For instance, parish administration is a specific area that can be done most effectively by those who are called to be administrators, rather than those called to ordained ministry.
In some cases, that collaboration between parishes may be less formal. In other cases, it may be helpful for that collaboration to be formalised in a new structure. We want to engage in a dialogue to explore and define those areas where parishes need to become part of a wider, more formalised team, and why it is appropriate in those specific contexts.
Q: Will my local church building still be open?
Our vision is for a thriving diocese in the years to come, not a programme of managed decline. Over the past five years, we have seen some churches that were previously closed to the public given new life as they were re-launched with a fresh new vision. Other congregations have recognised that they would best serve their local community by joining forces with a nearby congregation. There is no set answer – each church and community is different, and each will be involved in making decisions about the best way forward.
Q: How will we measure growth in depth and impact?
We know that we need to find ways of measuring growth in depth and impact. We have asked Church Army to help us find ways of doing this and will be working with parishes and ministry teams as we work through this.
And, although measuring growth in numbers might sound easier to do, in fact the growth of digital worship has made this more challenging too. Even post-pandemic, we cannot just count the number of people who physically attend church. We need to find new ways to reflect the engagement of worshippers and the dedication of disciples.
Q: I have seen what large congregations such as Harbour Church are doing, and it is great for them, but it would not work in my local setting. Are you going to force us to turn our church into a similar type of congregation?
No. Harbour is living out Live | Pray | Serve by responding very specifically to the needs of its local community. Our aim is to provide ministry that fits the needs of your own local community. Just as when a missionary goes abroad, they spend time understanding the local culture and shape their ministry accordingly, so we do the same in our own context.
Parishes have shared their own examples of how they have been living out Live | Pray | Serve in their own context. They recorded short videos showing how their existing mission and mission fits in with the vision for the future. You can see those inspiring stories here.
Q: What is the timescale for all this to happen?
Our deaneries have worked hard to envisage how the vision can look and be implemented in their area. Their presentations to our diocesan senior staff happened in February 2021, and the common trends in those deanery plans were noted at our Diocesan Synod in March 2021.
The process was due to continue with ongoing dialogue before Diocesan Synod was invited to approve to overall diocesan plan in July. However, our Bishop's Council agreed that we should take more time to prayerfully consider and discuss the plans before any final decisions. That will involve a Day of Prayer, some Clergy and Lay Conferences and seven deanery conferences, all to be held in September and October, ahead of our Diocesan Synod meeting in November.
For more details about the next steps we intend to take between June and November 2021, click here.
Q: What is the role of the Church of England centrally in this process?
The national C of E has also recently launched a vision for what the C of E might look like in the 2020s, which you can see here. It's important that what we are doing in this diocese fits in with both the national vision and local parish and deanery visions for the future.
The diocese has applied for central funding to support the current Live | Pray | Serve process, and the national Church is still shaping the process and timescales for applying for that funding. However, we are committed to implementing this vision, regardless of whether any funding from the national C of E is achieved.
What other questions do you have?
We've tried to anticipate some of the questions that you might have about this process. But if we haven't addressed the issue that you are concerned about, we'd love for you to ask. The best people to talk to in the first instance are your own parish priest or (if you are the parish priest!) your area dean and deanery lay chair. They are the people who are currently leading the discussions in deaneries. They will either be able to answer your question or can refer it to others who will help them to do so.
The video: Live | Pray | Serve
---
If you haven't yet seen it, do watch the video here in which Bishop Christopher and the Archdeacon of the Isle of Wight outline the vision and answer questions about it.
Upcoming Events
---
A day for clergy to meet in person and to speak openly and honestly about ... read more

For deanery lay chairs and those involved in lay ministry to also speak openly and ... read more

For deanery lay chairs and those involved in lay ministry to also speak openly and ... read more