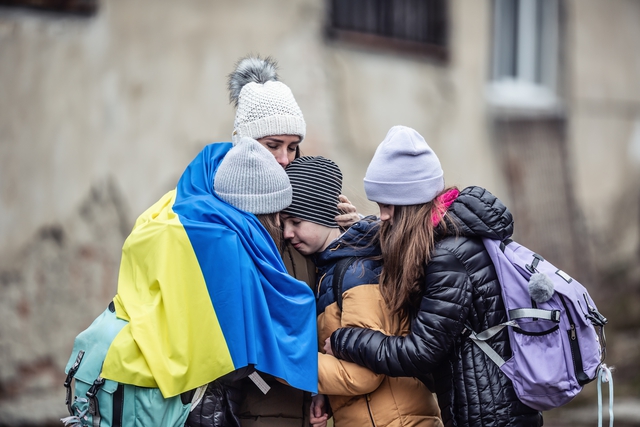 Supporting Ukrainian refugees: frequently-asked questions
We are currently looking to recruit 50 individuals or families who can host refugees fleeing from the conflict in Ukraine, working in partnership with Citizens UK to link our hosts with specific refugees. The project is outlined here.
Here are some of the detailed questions you may have if you are interested in hosting refugees:
Q: Do I need to live in the diocese or go to church to offer to help?
A: No, we're happy to have you on the scheme anyway. If you do attend one of our churches or have links here, you may have easier access to additional support and resources, such as a group of people from a local church to befriend the refugee you are hosting.
We're grateful for all your help and will still be able to connect you with local resources and helpers.
Q: Do I need to have experience in dealing with people who have come out of traumatic experiences?
A: No, but of course any experience that you do have will be valuable. These refugees may well be traumatised by being torn apart from loved ones, seeing their homes destroyed and/or being bereaved. It's important to recognise how challenging that could be for you and for your family.
Q: Do I need to be living in the house that I offer as accommodation?
We recommend you only offer accommodation you live in, and do so with no formal agreements in place. In other words, the refugee or refugees you host are your guests. You may want to give them their own set of keys so they can come and go.
If you do wish to offer accommodation that you don't live in, however, it will need to be documented properly with a formal agreement.
Q: If I'm a member of the clergy living in a vicarage, can I host refugees?
Yes. It is slightly more complicated to host refugees in empty vicarages, but vicarages that clergy are living in should be treated like any other home.
Q: What safeguarding checks will be in place?
Refugees will be subject to visa approvals and checks before being moved, and hosts will undergo DBS and home safety checks by local authorities within a month of refugees moving in. We'll also make sure you are aware of any safeguarding red flags that you should be looking out for, and our safeguarding team are always on hand.
The guidance is that all adults in the household need DBS checks. If you have older children or other adults who live in your home some of the time, they may also need checks done. We'll let you know when we know more.
Q: What costs are involved?
A: Citizens UK have committed to transporting refugees from Ukraine, so sponsors do not need to contribute financially to this.
You will receive £350 per month as a host to cover living expenses, via the government's Homes for Ukraine scheme. You are not obligated to feed any refugees you host - though you are of course welcome to! We will be able to connect hosts with other local support as needed, which may include things like providing food and toiletries, buying school uniforms etc.
Refugees will receive £200 when they first arrive and are eligible for benefits payments straight away - although these tend to take five weeks to kick in.
Q: What is the timescale for refugees arriving?
That is difficult to predict. At the moment, our task is to find people who can host them and befriend them. Citizens UK will then find Ukrainian refugees who would like to come to the UK, and start the matching process. There is then a visa process to go through. So not only do we not know how many refugees might come to the UK, we also don't know precisely when they might come. All we can do is to be ready when they do.