Our @CofEPortsmouth magazine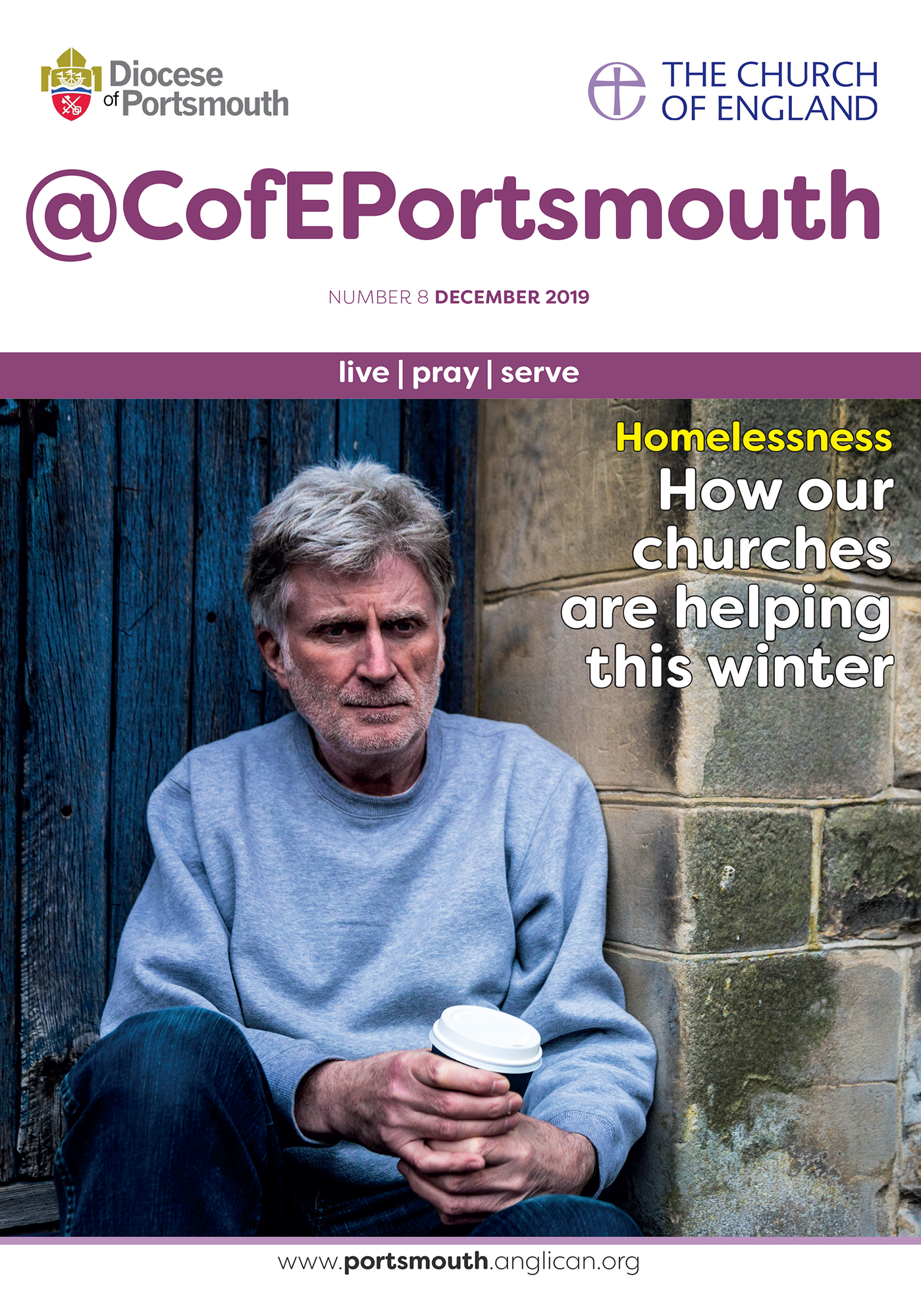 Our new quarterly magazine @CofEPortsmouth has replaced the monthly Pompey Chimes. It goes out to 8,000 readers in churches and schools schools across south-east Hampshire and the Isle of Wight. The four editions each year come out in March, June, September and December.
It is designed to give churchgoers and non-churchgoers an insight into life in our parishes and church schools, combining longer features with stories about people and columns written by the bishop and others on significant issues. Topical news stories and forthcoming events can be found more easily on our website.
To read pages from our magazine, click on the links below:
December 2019
Faith in Focus: Politics is about what shapes us, by Bishop Christopher: page 3
Latest News: Historic outfits mark 1,000 years of Corhampton Church; pages 4-5
Latest News: Pupils learn about our planet's eco-system: page 6
Latest News: Round-up: page 7
Latest News: Delegates flock to city for global Mothers' Union conference: page 8
Latest News: Round-up; page 9
In Depth: Our faith prompts care for the homeless; pages 10-11 and pages 12-13
In Depth: Christmas events are part of our mission: pages 14-15
In Depth: This community of lifeboat volunteers is saving lives: pages 16-17
My Faith: Inspired to write the story of a pioneering bishop: pages 18-19
People: Network helps us to really love thy neighbour: pages 20-21 and page 22
The Big Issue: Do our styles of worship matter?: page 23
Why I Love My Church: We're like a family that cares for others: page 24
Top 10: Parish magazines: page 26
And Finally: The Big Picture: page 28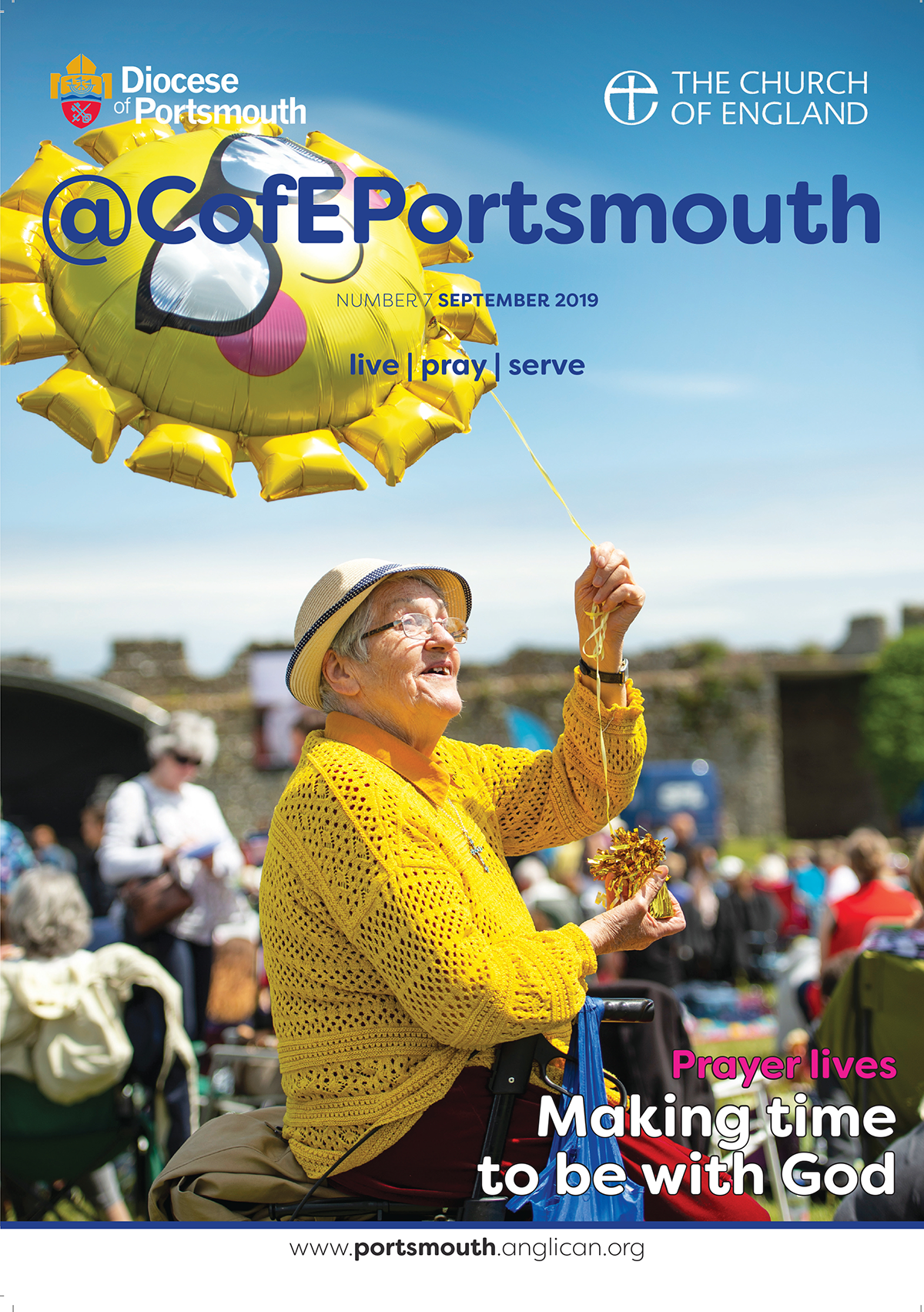 September 2019
Faith in Focus: Why worship can seem strange, by Bishop Christopher; page 3
Latest News: Joanne is consecrated bishop at St Paul's; page 4-5
Latest News: Pupils learn about our planet's eco-system; page 6
Latest News: Round-up; page 7
Latest News: Fish and bread for 5,000 to re-enact a miracle; page 8
Latest News: Round-up; page 9
In Depth: So many ways in which we can pray; pages 10-11 and pages 12-13
Church Choirs: Choirs can help our worship to soar; pages 14-15 and pages 16-17
Counselling: Counselling saved me – so now I help others; pages 18-19
My Faith: 'I hate running – but I finished a marathon!'; pages 20-21
The Big Issue: I won't preach on the Brexit issue; page 23
Why I Love My Church: I like choral tradition – and a worship band; page 24
And Finally: Enlarge your prayer life; page 26
And Finally: The Big Picture; page 28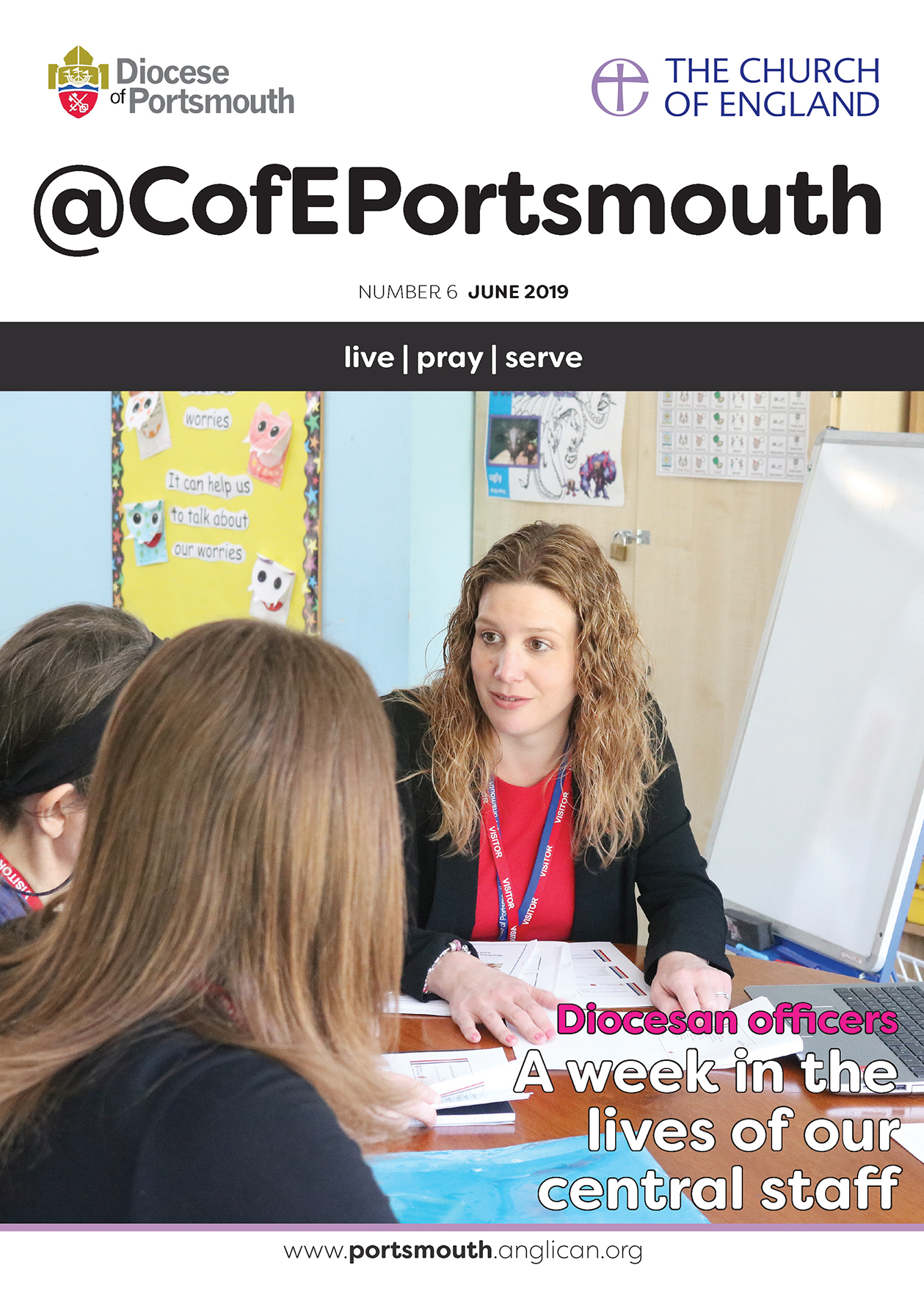 June 2019
Faith in Focus: Delays aren't always bad, by Bishop Christopher; page 3
Latest News: Archdeacon Joanne is new Bishop of Stepney; page 4
Latest News: Round-up; page 5
Latest News: Dean installed in formal and prayerful ceremony; page 6
Latest News: Round-up; page 7
Latest News: MP backs church's bid to be community hub; page 8
Latest News: School names building after island war hero; page 9
In Depth: Diocesan staff on hand to help you; pages 10-11 and pages 12-13
Retired Clergy: Network of retired clergy is truly valuable; pages 14-15 and pages 16-17
My Faith: 'I felt God's presence as I held our babies'; pages 18-19
St Thomas Awards: These stalwarts have served us for so long; page 20
Ordinations: How cancer catapulted me into the unknown; page 21
The Big Issue: How science and faith can co-exist; page 23
Why I Love My Church: A place of sanctuary and mystery; page 24
And Finally: Have fun in the sun; page 26
And Finally: The Big Picture; page 28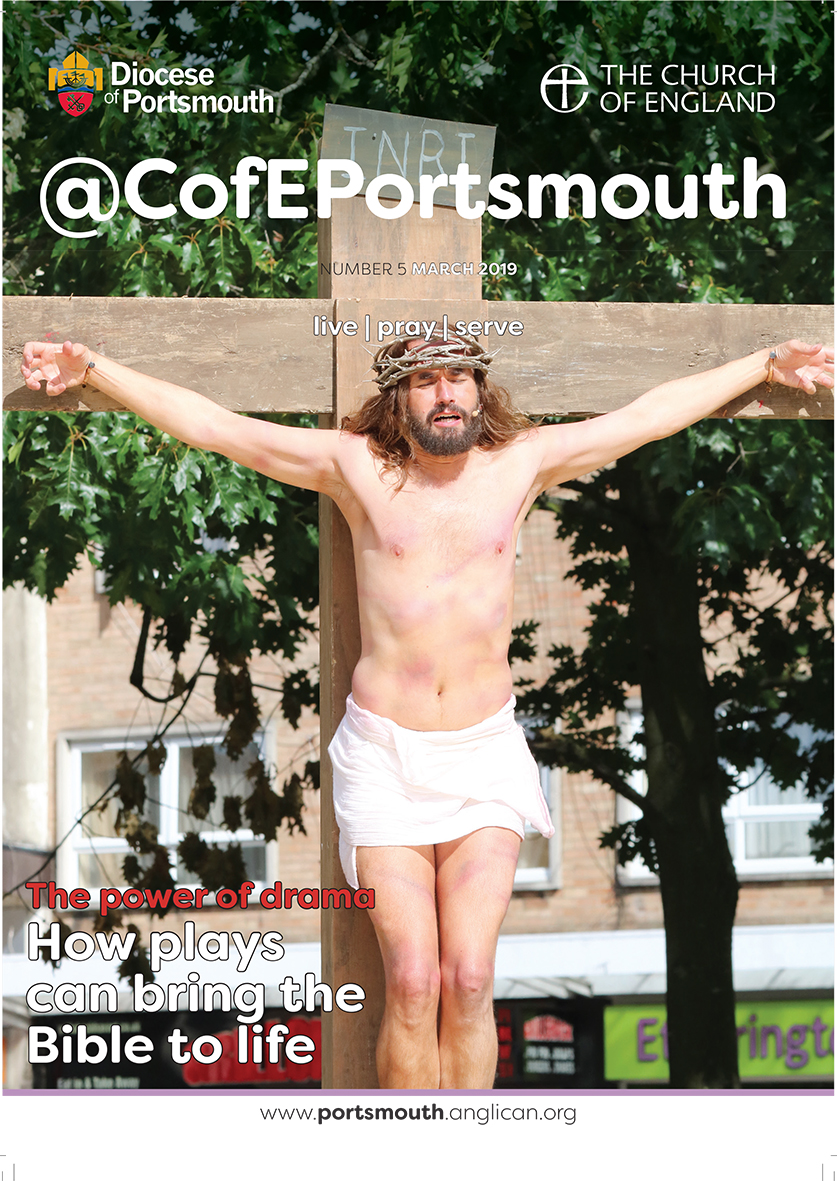 March 2019
Faith in Focus: Why mental health counts, by Bishop Christopher; page 3
Resourcing Growth: Bike scheme puts us at heart of community; pages 4-5
Latest News: Homeless welcomed to eat and sleep in church; page 6
Latest News: Round-up; page 7
Latest News: Thousands of us will pray in castle grounds; page 8
Latest News: Group for dads and kids mark its first birthday; page 9
Fresh Expressions: We're embracing new church styles; pages 10-11 and pages 12-13
Church Drama: Acting out the Bible brings it to life; pages 14-15 and pages 16-17
My Faith: 'Singing is a natural part of my faith'; pages 20-21
The Big Issue: RE helps pupils ponder big ideas; page 23
Why I Love My Church: Jesus is at the centre; page 24
Book Review: Reflections for the Unfolding Year; page 25
And Finally: Top 10 Tips on Rural Ministry; page 26
And Finally: The Big Picture; page 28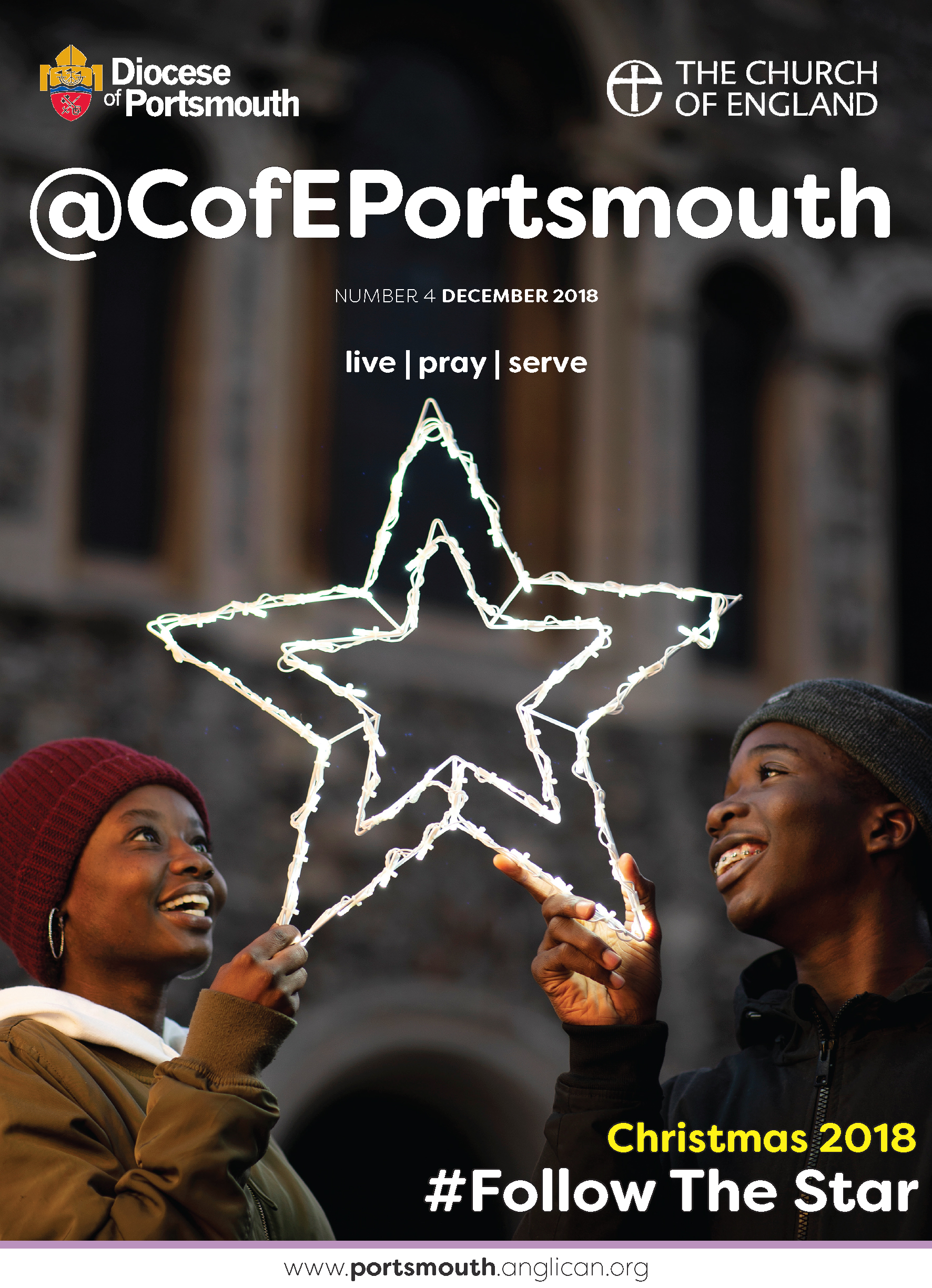 December 2018
Faith in Focus: Advent points to entire faith, by Bishop Christopher; page 3
Latest News: Chichester Cathedral cleric to be new Dean; page 4
Latest News: Round-up; page 5
Latest News: Bishop helps to launch new all-through school; page 6
Latest News: Round-up; page 7
Resourcing Growth: Strategy aims to help us impact spiritually; pages 8-9
Christmas 2018: Festive season could be life-changing; pages 10-11
School Governors: Governors vital to help pupils; pages 12-13 and pages 14-15
Vocations: 'I loved being a scientist - then God called me to be a vicar'; pages 16-17 and pages 18-19
My Faith: 'I feared God until I discovered His grace'; pages 20-21
The Big Issue: Going vegan is the green ideal; page 23
Why I Love My Church: Keep it in the family; page 24
And Finally: Top 10 Christmas Celebrations, page 26
And Finally: The Big Picture; page 28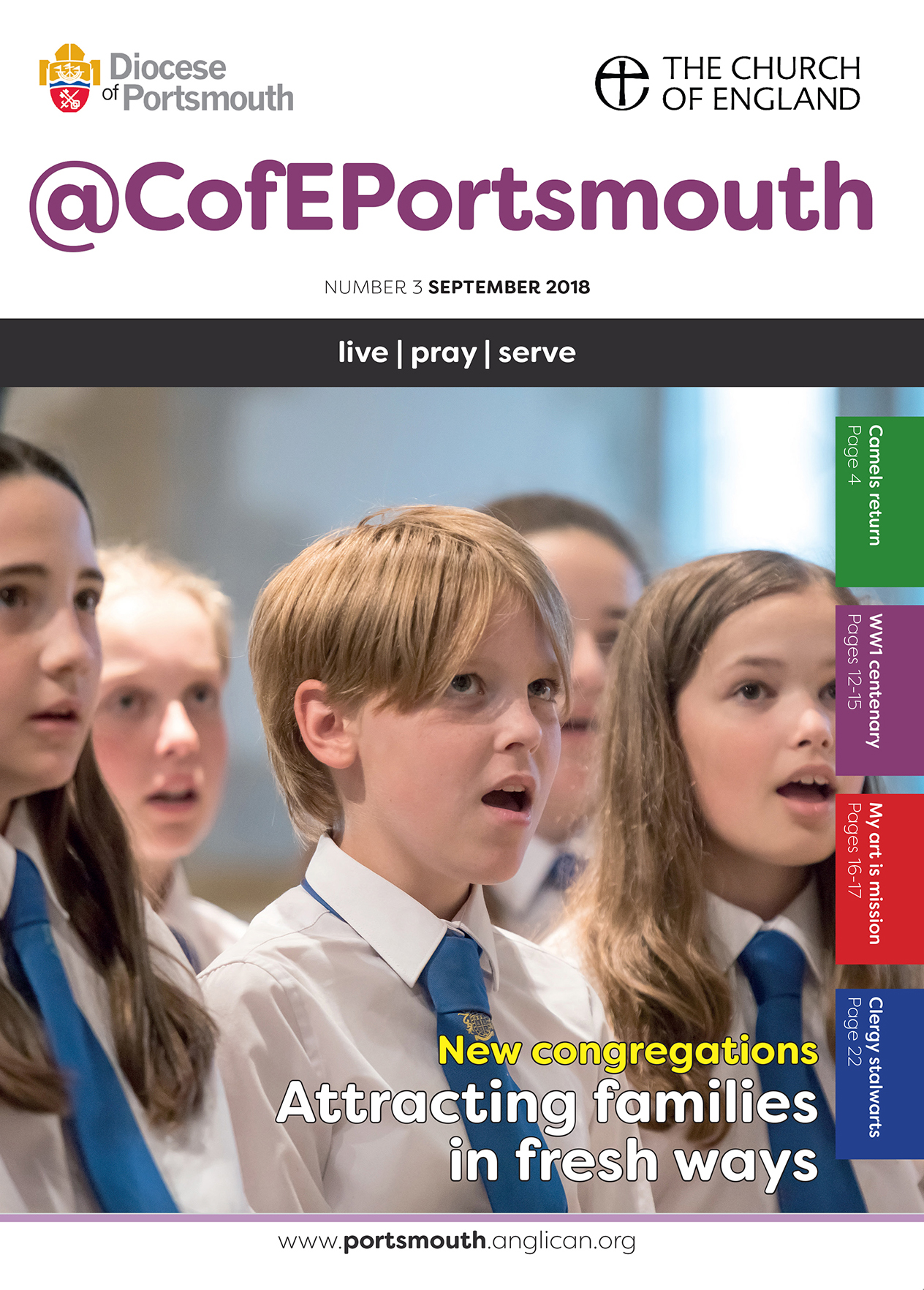 September 2018
Faith in Focus: Our calling is for every day; page 3
Latest News: Camels will return to streets of Leigh Park; page 4
Latest News: Triple charity challenge and more; page 5
Latest News: Decorated chairs to celebrate our heroes; pages 6-7
In Depth: We're devising new ways to worship; pages 8-9 and pages 10-11
In Depth: 100th anniversary of the end of the First World War; pages 12-13 and pages 14-15
My Faith: God used my artwork to spread the gospel; pages 16-17
The Big Issue: Your website is a shop window; page 19
Why I Love My Church: Perfect place to wed; page 20
Top 10: Long-serving clergy; page 22
The Big Picture: Ordinations 2018; page 24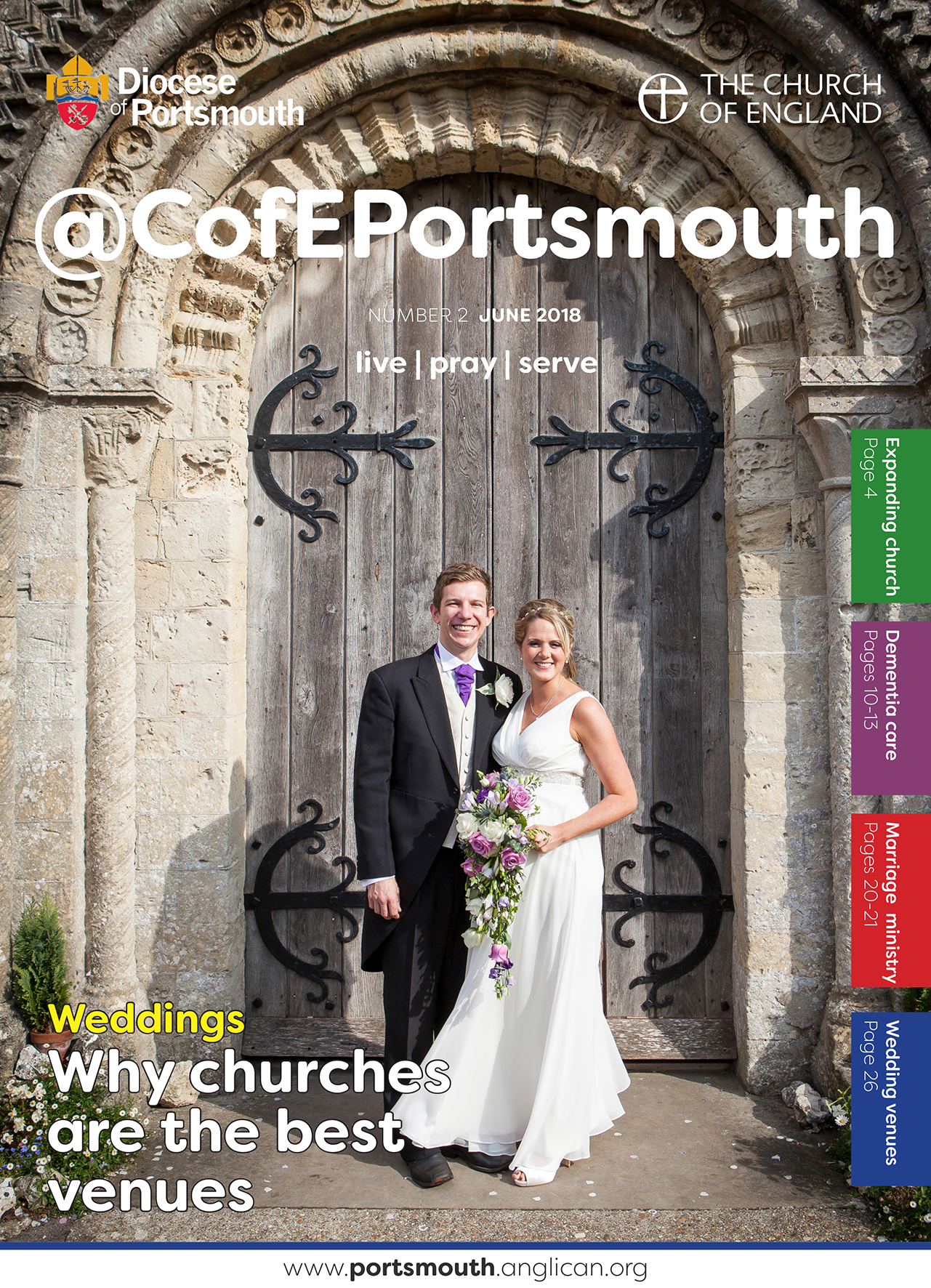 June 2018
Faith in Focus: I'm happy to talk about plastic; page 3
Latest News: Harbour Church to move after outgrowing building; page 4
Latest News: New internships launched and more; page 5
Latest News: Mammoth sponsored walk to raise Iona cash; page 6
Latest News: Sophie's Ghana trip and more, page 7
In Depth: Being a Christian from Monday to Saturday; pages 8-9
In Depth: Care for those with dementia is vital; pages 10-11 and pages 12-13
In Depth: Church is still the best place to get wed; pages 14-15 and pages 16-17
St Thomas Award: Honours for those who served us for years; pages 18-19
My Faith: Renewing marriages across the globe; pages 20-21
Ordinations: Husband and wife to share curate's role; page 22
The Big Issue: Let's share our life-giving faith; page 23
Why I Love My Church: so much is going on!; page 24
Top 10: Where couples marry; page 26
The Big Picture: May Fayre at St Mary's, Fratton; page 28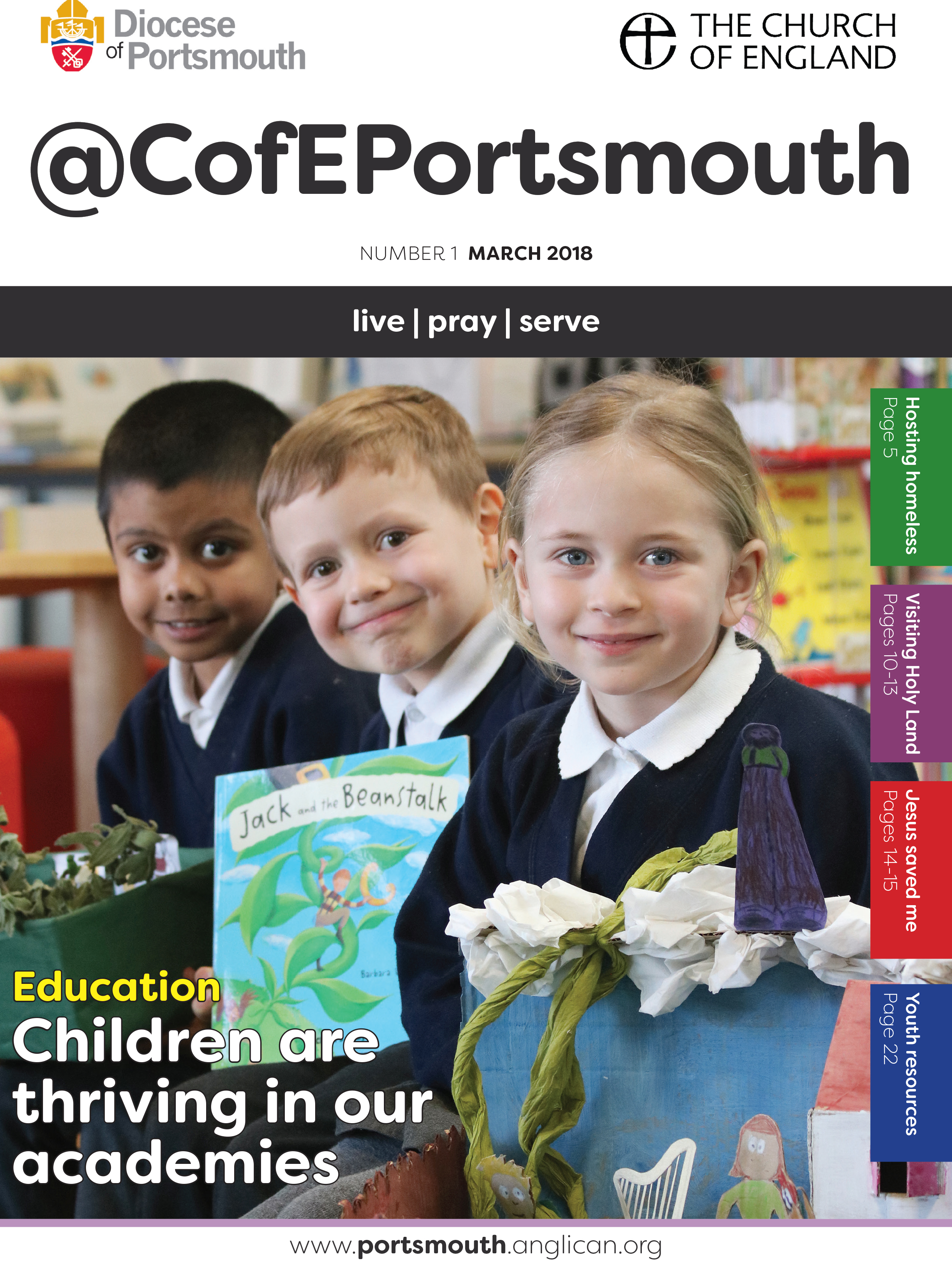 March 2018
Faith in Focus: Why prayer is amazing; page 3
Latest News: Homeless guests sleep in church; page 4
Latest News: Strategic funds success and more; page 5
In Depth: Our academies get top marks; pages 6-7
In Depth: Our academies get top marks; pages 8-9
In Depth: Curates' pilgrimage follows in Jesus' footsteps; pages 10-11 and pages 12-13
The Big Issue: Let's fight real horror this Lent; page 17
Why I Love My Church: It's like a real family; page 20
Top 10: You can do youth work; page 22
The Big Picture: the Holy Land; page 24
Your news
If you would like to submit suggestions for features for @CofEPortsmouth, please use the form here:
(The four editions each year come out in March, June, September and December)