From Bishop Christopher:
"This year we begin Lent in lockdown, keeping Ash Wednesday next week on 17 February. Last year we entered lockdown just about halfway through Lent, marking the whole of Passiontide, Holy Week and then Easter under restrictions and constraints.
"At least this year we can plan…so here are some suggestions for devotional focus at home to use alongside the opportunities that parishes are offering for study, prayer and learning through online digital courses and groups, or through meditations and sermons available by phone, or through written material delivered via the letterbox.
"I begin with a reminder that a physical discipline can assist our spiritual discipline or focus. Taking something up or giving something up can help us to focus better on God and Jesus, and to give attention to what's really important for us. For lent exactly fifty years ago I began praying Church of England Morning Prayer and discovered the joy of praying the same words and psalms, reading the same bible readings as Christians all around the country and the world. You may consider your own way to focus your daily prayer. You might mark every Friday, preparing for Jesus' death on Good Friday, by having a simpler lunch or meal. You may decide to give more generously or sacrificially to a charity or your church. As with me those decades ago, Lent can be the start of something valuable in your life.
"For those who want to read a book over the next six or seven weeks, there are plenty available – and online as well. If you'd like recommendations, here are a few:"
---
#LiveLent is the campaign launched by the national Church of England to lead people in daily devotion and prayer during Lent.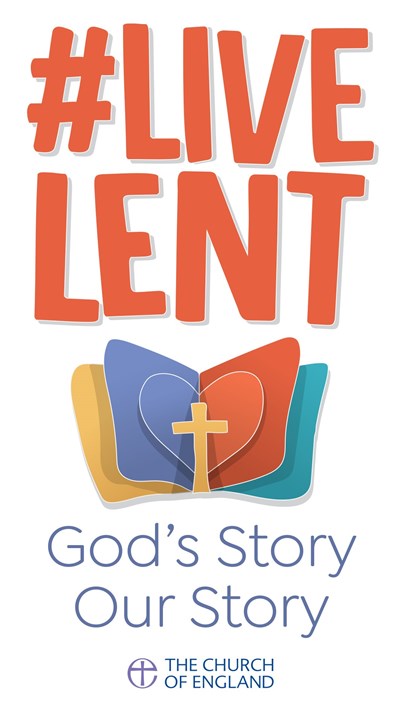 LiveLent: God's Story, Our Story is the Church of England's Lent campaign for 2021. The book invites each of us to reflect on our own story of God and how we might share it through our everyday lives as part of our Christian witness. It encourages us to take a fresh look at evangelism, exploring how Jesus and his first followers communicated the good news of God's love by inviting, listening and responding creatively to others.
For each of the 40 days of Lent, this booklet includes a short Bible passage, a reflection and a prayer. The daily reflections follow weekly themes – each with an accompanying action – drawn from the Archbishop of Canterbury's Lent Book 2021, Living His Story: Sharing the extraordinary love of God in ordinary ways by Hannah Steele (SPCK).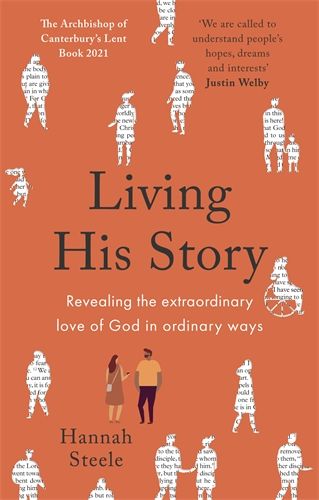 How can we convey the love of God to our neighbours in a post-Christian world that has largely forgotten the gospel of Jesus Christ? In Living His Story, the Archbishop of Canterbury's Lent Book 2021, Hannah Steele uncovers liberating and practical ways of sharing the gospel story afresh. With warmth and encouragement, she shows us how we can live Jesus' story in our own lives simply by being the people God made us and allowing people to be drawn to him through our natural gifts.
Living His Story is a Lent devotional that will change the way you think about evangelism, show how ideally suited it is for the world we live in and fill you with confidence in sharing God's love with the people around you. Set out in six sessions to take you through Lent, each chapter of the 2021 Archbishop of Canterbury's Lent book can be used as a single study for individuals or small groups to prepare for Easter. It will help you find space to see evangelism from a new practical perspective. Available from SPCK.
---

Lent 2021: Women in the Shadows
The Clewer Initiative has produced and released five hard-hitting mini films and an accompanying devotional course for Lent 2021.
Entitled Women in the Shadows, we are focusing on the suffering facing women and girls who are trapped in sexual exploitation, forced labour and county lines drug smuggling and the ways in which different organisations are supporting and helping victims and survivors. We hope that many churches and communities will use the films and devotional material as the focus for Lent this year.
The Course seeks to expose misunderstanding surrounding these subjects and inspire listeners to think about what they could do to make a difference. It also explores God's heart for the poor and marginalised and our response.
Read more about it on our Modern Slavery page.
---
Thy Will Be Done
Stephen Cherry
Thy Will be Done, by Stephen Cherry (of King's College Cambridge, whose voice we hear every year at the annual Carol Service) is the latest of many books on the Lord's Prayer that, more than any other prayer or thing, holds us together as individuals in the church. This is a good new opportunity to deepen our understanding of very familiar words – 57 of them in the Greek – and the book will help to simplify our prayer and devotion.
---
A Cross In The Heart Of God
Sam Wells
A Cross in the Heart of God: Reflections on the death of Jesus is by the well-known broadcaster and vicar, Sam Wells. This is a typically thoughtful book, with a study guide too, from a priest who is able to be challenging and provoking as well as consoling and reassuring. Head on he doesn't avoid the different understandings of Christ's crucifixion and enables us to discover them as, indeed, God's wondrous love.
Marking Lent in a time of Covid
You may have questions about how you can mark Lent in your church during a time of Covid lockdown. The national Church of England has provided some guidance about Lent, Holy Week and Easter, which you can read here:
This year the Bishop's annual Lent Appeal will focus on changing our behaviour to help preserve our environment and raising money for charities that are working to combat climate change. For more details, click here.