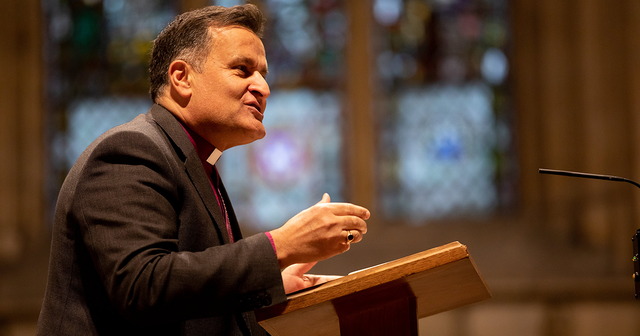 Bishop of Portsmouth
---
The Church of England's tenth Bishop of Portsmouth is the Rt Rev Dr Jonathan Frost. He was installed in our cathedral in March 2022, and you can read about that here.
The Bishop of Portsmouth is responsible for the 133 parishes which make up the Portsmouth diocese, which includes south-east Hampshire and the Isle of Wight. The Diocese of Portsmouth is one of only two dioceses in the Church of England that only has one bishop. There are no suffragan bishops.
The bishop's work includes leading the mission and ministry of the diocese as a whole, caring for and inspiring clergy and lay worshippers across the diocese, visiting parishes, ordaining new clergy and confirming those who want to commit themselves to the faith.
The bishop's office, Bishopsgrove, is located in Fareham, whereas the diocesan offices are based in Portsmouth, near the cross-channel ferry port. Our cathedral is in Old Portsmouth.
Bishop Jonathan succeeds as bishop of Portsmouth from Rt Rev Christopher Foster, who served as our ninth bishop from September 2010 until his retirement in April 2021. You can read about his farewell service here.