Street Pastors in the diocese
Street Pastors is an inter-denominational Church response to urban problems, engaging with people on the streets to care, listen and help.
Street Pastors has been in Portsmouth since 2007. There are teams in the city centre every Friday and Saturday night and around Albert Road one weekend a month. Each team has on average, 4 Street Pastors who patrol form 10:30 pm to 3:30 am. Each Street Pastor receives comprehensive training before they go out with a team. This means the streets of Portsmouth have 200 hours every month of trained volunteers, making a real difference.
Since 2007, Street Pastors in Portsmouth have made over 36,000 contacts with people on the streets, they have picked up over 25,000 bottles and handed out over 1800 pairs of flip-flops!
---
If you would like to be a part of Portsmouth Street Pastors, or would like to find out more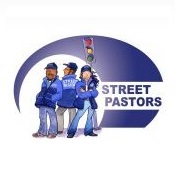 GET IN TOUCH
E: portsmouth@streetpastors.org.uk
T: 07809 627770