Chaplaincy at Portsmouth Hospitals NHS Trust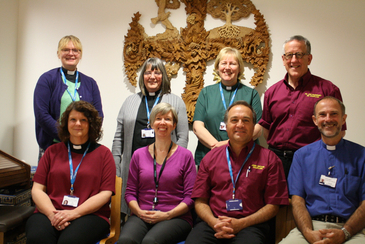 The Chaplaincy team for the Portsmouth Hospitals NHS Trust is based at the Queen Alexandra Hospital and led by Rev John Detain.
Chaplains provide spiritual care 24/7 for patients, relatives and staff, of all faiths or no faith at all.
The chaplains understand that being admitted to hospital can be an unsettling experience. Deprived of mobility and independence, with family and friends perhaps unable to visit regularly, and with time to think about their own physical fragility, patients may need someone to talk to. That's where the hospital chaplains can help. They listen, offer sacramental ministry, pray or read a Bible passage by the bedside. They lead Christian worship in the hospital multi-faith chapel, to which all are welcome.
Sunday services:
10.30am - Sunday Worship (usually Anglican/Methodist Eucharist)
4pm - Mass (Catholic)
Weekday services:
Monday-Friday at 9am - Morning Prayer
Wednesday at 12noon - Anglican/Methodist Eucharist
Thursday at 1pm - Informal Prayer and Praise
The team is supported by volunteer chaplaincy assistants who assist in pastoral care and chapel assistants who help out on Sundays by taking patients to the morning service in the chapel.
If you or someone you know would like support from the chaplaincy as a patient or visitor to the hospital, please contact the chaplaincy office on 02392 286408 or email John Detain on john.detain@porthosp.nhs.uk
Click here to find out more about chaplaincy at the hospital