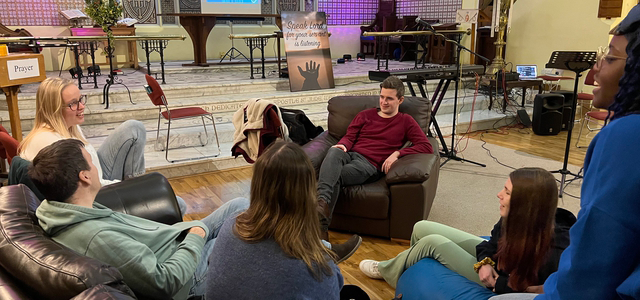 Discipleship Courses
---
Living Faith

Discovering more on your journey of faith
Living Faith is a learning opportunity for anyone wishing to expand their understanding and experience of the Christian faith. The full course comprises three modules per year for two years, however this is a flexible discipleship course allowing you to take as many modules as you wish. Courses are held at different venues around the Diocese.
For more information from local course co-ordinators,
please contact:
Blowing Your Cover
Designed to help individuals to be more confident in personally sharing their faith.
For more information visit: blowingyourcover.com
Alpha
Seeks to explore the basics of the Christian faith, and is described as "an opportunity to explore the meaning of life"
For more information please visit: uk.alpha.org
Emmaus
A broader package taking people from enquiry, through nurture, and on into growth.
For more information visit: e-mmaus.org.uk
Essence
An exploration of contemporary spirituality which looks towards a lifestyle integrating body, mind and spirit.
For more information visit: freshexpressions.org.uk
Start!
Start! is an interactive DVD-based resource that is suited to small groups, with six interactive sessions. It is aimed at those wanting to know more about Christianity and assumes no prior knowledge of Christianity or the church. The resource can be used with those wanting to know more about Christianity as well as baptism families, wedding contacts, bereaved families, parents of children and teenagers and those who are new to the church.
More details available at: leadingyourchurchintogrowth.org.uk
Moving On!
Moving On! is a resource consisting of seven interactive small-group sessions that explores Christian discipleship. Moving On! can be used as a sequel to Start! or as a standalone resource, and is suited to anyone wanting to "explore what it means to be a Christian disciple today". Moving On! is aimed at those wanting to develop and grow their relationship with God.
More details available at: leadingyourchurchintogrowth.org.uk
Pilgrim
Pilgrim "aims to help every local church create a place where people can explore the Christian faith together and see how it can be lived out each day". Pilgrim comprises two stages: the Follow stage for those very new to faith, and the Grow stage for those who want to go further. Each stage contains four short six-session courses which focus on a major theme of Christian life.
More details available at: pilgrimcourse.org
Life on the Frontline
The Life on the Frontline DVD "explores some core questions about how God might use us to make a difference in today's world", because where we live and work has great potential to join God in his "mission in the world".
More details available at: licc.org.uk
Fruitfulness on the Frontline
The Fruitfulness on the Frontline DVD "explores the rich variety of ways in which God works in and through us in the places where we spend our time through the week. Building on the foundation laid in the Life on the Frontline DVD series, this resource paints a multi-dimensional picture of what fruitful Christian living can look like."
More details available at: licc.org.uk
The accompanying Fruitfulness on the Frontline book considers in greater detail and depth how God can and does work in and through us in our daily lives, offering real-life stories.
More details available at: licc.org.uk
Table Talk
It can be a struggle for parents and children to read the Bible regularly together, but help is at hand! Table Talk is designed to form the basis for a short family Bible time or devotions – maybe just five minutes at a mealtime.
More details available at: thegoodbook.co.uk