Coronavirus: latest updates
Guidance from May 17
The government's Covid guidance for Places of Worship has been altered, ahead of Stage 3 of the government's roadmap on May 17. The main changes are as follows:
No limit on the number attending funerals, other than your normal Covid limits. A maximum of 30 people at weddings, wedding receptions and wakes;
You can allow 30 people to attend stand-alone baptisms (ie. those done outside regular congregational worship) and events such as the scattering of ashes;
No limit on the number who can be inside churches for private prayer, other than your normal Covid limits. Groups of six (or two households) can pray together inside, as per the new guidance on meeting indoors;
Face-coverings, social distancing and limits on attendance are still required during public worship, but groups of six (or two households) can attend 'together';
Amateur choirs and worship groups are permitted to have up to six people singing indoors, so long as they are socially distanced from each other and the congregation;
Congregations are allowed to sing outdoors, in multiple groups of 30 people (ie. if you have been separating your congregation into household groups to sing, you can now separate them in several groups of no more than 30 each);
Cafes inside churches can re-open, so long as hospitality guidelines are followed, and people can provide their own food and drink inside churches. While it may appear that this means after-service tea/coffee can be provided, the complexity of hospitality guidelines (ie. ordering from a counter, table service by waiters etc) suggests that this is probably best avoided for now;
There is a line suggesting that 'where food or drink is essential to the act of worship, they can be used'. While on the face of it, this seems to suggest that Communion in both kinds may be possible, the guidance also suggests that people should not touch shared items (eg. chalices). It seems prudent to wait for the national C of E's Recovery Group to agree detailed guidance on Holy Communion;
As suggested yesterday, there is new guidance on groups for children and young people, including Sunday Schools, children's choirs, holiday clubs etc, which is here:
You can now have up to 30 people at parent and child support groups (not including under 5s).
The national C of E may provide new guidance, in the light of the changes outlined above. In the meantime, the following guidance still applies:
Other guidance
There is some detailed advice about other church activities, much of which dates from January, but hasn't yet changed:
Maintenance of church buildings
This guidance applies to how to care for your church building: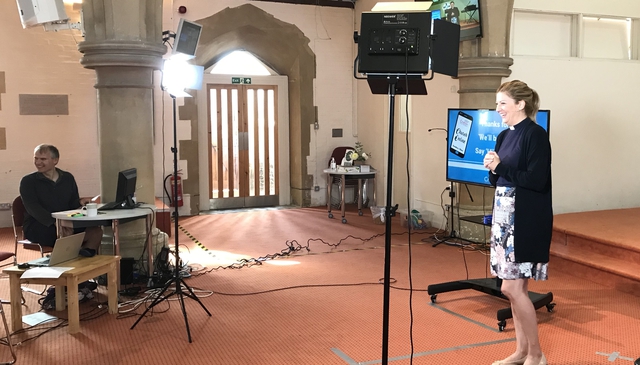 Digital worship
Our parishes are likely to want to broadcast digital worship during January's lockdown - either live-streaming from inside an empty church, or using pre-recorded video material. We've put together some advice about how to do this, which you can read here.
Diocesan events and diocesan offices
Many diocesan events have been cancelled, or are happening digitally. Some may have been postponed, some cancelled altogether. Do check on this list of events, as we will try to indicate – where possible – if an event might still happen either digitally or at a later date: www.portsmouth.anglican.org/events/.
Our diocesan offices, archdeacons' offices and Bishopgrove remain closed to the public. Senior staff and diocesan officers are working from home. You can contact them by email, checking this list to discover who's who: www.portsmouth.anglican.org/contact-us/
Helping your communities
Does your church want to help those in your local community who are vulnerable or feeling isolated? We've got some advice about how best to help, depending on the part of the diocese in which you live. Click here for details.
Parish finances
You can read information about the effect of the coronavirus outbreak on stewardship, the Parish Giving Scheme, APCMs and parish share here.