Coronavirus: latest updates
The current lockdown
The government's guidance for places of worship during the current lockdown can be read here. The brief overview is that:
Communal public worship is permitted, so long as social distancing and hygiene rules are followed, and after a new risk assessment has been carried out (you can download a risk assessment template here). PCCs are encouraged to consider whether it is safer to offer digital worship only, depending their local context and the vulnerability of their parishioners;
Where a congregation is present, the number of people permitted to sing should be limited to one person, wherever possible. Exceptionally, where it is essential to the service, up to three individuals can do so. Strict social distancing should be observed and the use of Plexi-glass screens should be considered to protect worshippers and each other.
Where there is no congregation, the numbers singing as part of a professional choir can exceed three, but should be kept to a minimum and be socially distanced from each other.
Individual private prayer is also permitted in church, so long as social distancing and hygiene rules are followed;
Wedding services are only permitted in exceptional circumstances, which should be discussed with your archdeacon;
Funeral services can take place, with a maximum of 30 people present.
You can read full details of what is permitted and details of the legalities involved in suspending public worship for a temporary period here:
Parishes may want to consider if they should open for public worship, given their local contexts. Individual worshippers may, of course, also decide not to attend in order to keep safe. Bishop Christopher has also written to all clergy in our diocese, indicating that PCCs can take the decision whether to offer purely digital worship, rather than physical services.
There is some detailed advice about other church activities during the current lockdown. In some cases, these amendments are minor, of the document simply re-states that previous advice is still appropriate. Do check at the top of each document to see what changes (if any) have been made):
Vaccines
As the Covid vaccines begin to be available, there is some national guidance about vaccinations:
Other national C of E guidance on parish life during the current lockdown can be found here: www.churchofengland.org/coronavirus.
Maintenance of church buildings
This guidance applies to how to care for your church building: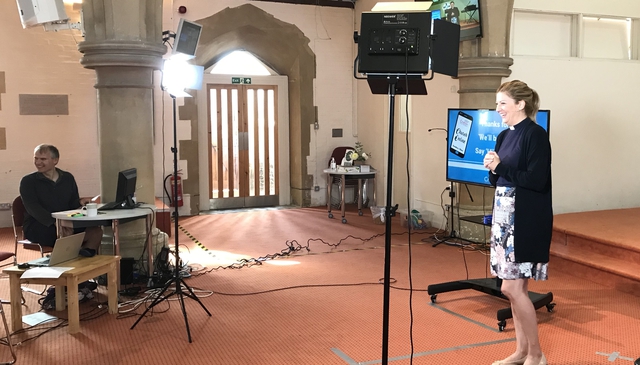 Digital worship
Our parishes are likely to want to broadcast digital worship during January's lockdown - either live-streaming from inside an empty church, or using pre-recorded video material. We've put together some advice about how to do this, which you can read here.
Diocesan events and diocesan offices
Many diocesan events have been cancelled, or are happening digitally. Some may have been postponed, some cancelled altogether. Do check on this list of events, as we will try to indicate – where possible – if an event might still happen either digitally or at a later date: www.portsmouth.anglican.org/events/.
Our diocesan offices, archdeacons' offices and Bishopgrove remain closed to the public. Senior staff and diocesan officers are working from home. You can contact them by email, checking this list to discover who's who: www.portsmouth.anglican.org/contact-us/
Helping your communities
Does your church want to help those in your local community who are vulnerable or feeling isolated? We've got some advice about how best to help, depending on the part of the diocese in which you live. Click here for details.
Parish finances
You can read information about the effect of the coronavirus outbreak on stewardship, the Parish Giving Scheme, APCMs and parish share here.
Vulnerable people and over 70s
The national C of E has advice about the personal risks to clergy, church workers or volunteers who are vulnerable, including those over 70, which you can read here. It suggests that individuals in these categories who would like to minister or volunteer in any capacity should discuss the risks to their own health.

The guidance from Bishop Christopher and the diocese is therefore:
Clergy or Readers who are over 70 and would like to minister should talk to their incumbent about the personal risks involved, with reference to this document. If the incumbent is supportive of their request, he or she should discuss each specific case with the Bishop, Archdeacon or Warden of Readers;
Church staff or volunteers who are over 70 and would like to help in church activities should talk to their incumbent about the personal risks involved, with reference to this document. The final decision will rest with the incumbent (or area dean, if in vacancy).