Racial Justice
---
In acknowledgement of the challenge given by Rev Rajiv Sidhu, curate at St Mary's Church, Fratton, in his article for the Spring 2022 issue of @CofEPortsmouth, our diocesan magazine, we've created this page to enable parishes to engage with the growing movement for racial justice in the UK.
The Diocesan Racial Justice Group, chaired by the Very Rev Anthony Cane, Dean of Portsmouth, focuses on racial justice and our diocese's response to 'From Lament to Action', the report issued by the Archbishops' Anti-Racism task force in 2021. You can contact the group here.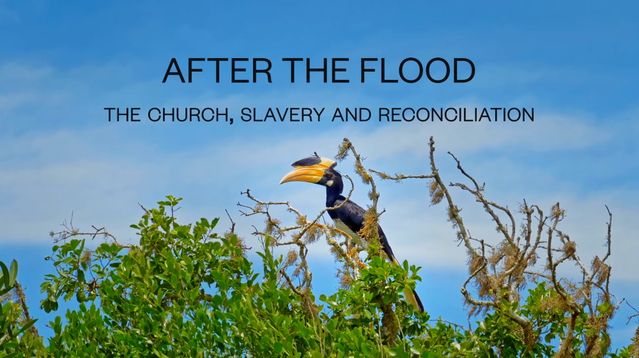 After the Flood documentary
As part of Black History Month, the Church provides this unique opportunity for its members, individually and collectively, to watch After the Flood: The Church, Slavery and Reconciliation.
The 67-minute documentary aims to be educational and redemptive, and addresses the historical neglect of slavery in British Christian history. It looks at biblical principles for racial reconciliation in our churches today. This is a pre-requisite for British churches to confront slavery, and necessary to overturn injustices resulting from its legacy.
The documentary, produced by the Movement for Justice and Reconciliation, is being made available to watch during the month of October here by the Church of England's Racial Justice Unit. Click here for more information about the documentary.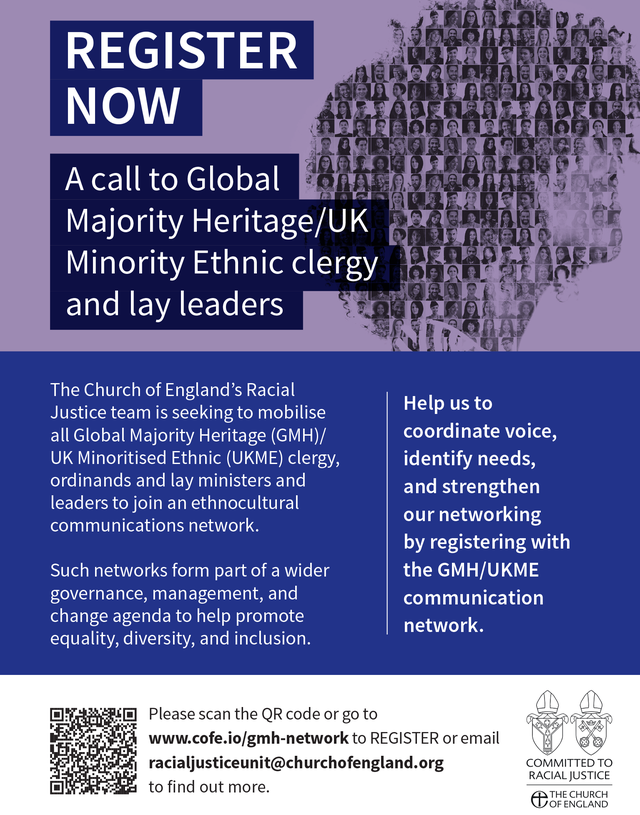 Racial Justice calendar
This calendar, managed and updated by the Racial Justice team gives details of upcoming celebrations, events, and awarenesses. You can add this calendar to your own Google Calendar by clicking the link at the bottom-right.
News
Pioneers of racial justice celebrated

The struggle for racial justice remains a challenge. For centuries, campaigners have organised and undertaken important advocacy and educational work. In more recent times, courageous churchwomen and men, along with some organisations and dioceses, have stood up and stepped forward to inspire, organise, and support activities that reflect the biblical imperative towards oneness in Christ. Their efforts contributed much to the Church's deepening commitment to racial equality, diversity, and inclusion. Nominations of individuals and groups that have significantly contributed to racial justice in the Church, in any time period, should be sent by 30 November 2023 along with a 200-500-word biography including their Church-related activities to racialjusticepioneers@churchofengland.org.

The Church of England must adopt a 'strong strategy' to tackle racial inequality in the face of the 'scandal' of its failure to implement recommendations made over the years on racial justice, the General Synod heard on February 8th, 2022.

The Archbishops' Anti-Racism Taskforce published its report 'From Lament to Action' on April 22nd, 2021, proposing a suite of changes to begin bringing about a change of culture in the life of the Church of England.
---
Resources for Black History Month
During the month of October, churches across the country will be marking Black History Month with services, exhibitions, events, music, and more.
The Church of England has produced liturgical resources for use in Black History Month (October), including Services of the Word, a Eucharistic service, Prayers of Lament and of Commission, and links to further resources for Bible studies, youth work, Messy Church, and music. Click here to explore and download.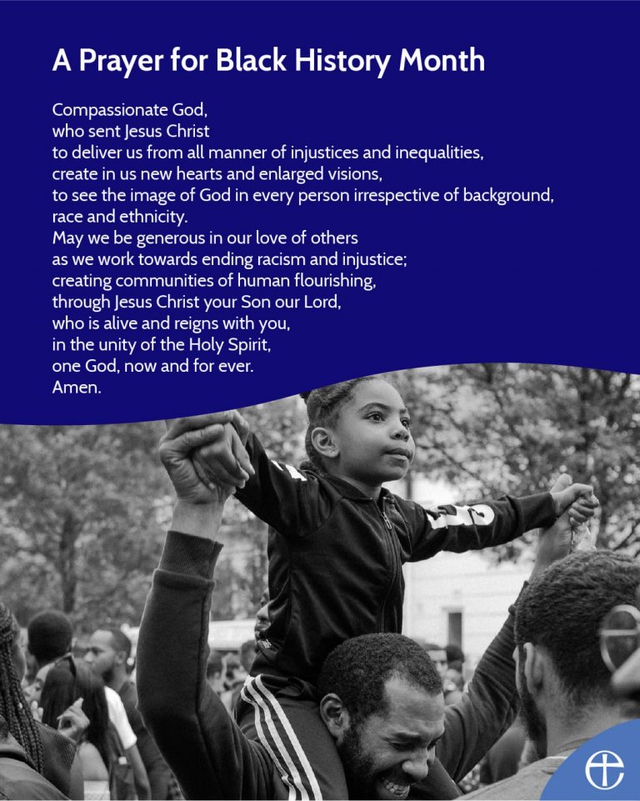 ---
Resources for Racial Justice Sunday
Racial Justice Sunday is an ecumenical observance which began in 1995 in Britain and Ireland. The catalyst for this observation was the murder of Stephen Lawrence, a black teenager in South London, on 22 April 1993. In 2017, Racial Justice Sunday moved from September to the second Sunday of February.
---
Resources for Schools and Families
A Parent's Guide to Black Lives Matter
Produced by Yoopies, a digital home care provider
Resources, activities, and tips for families to empower children to work towards racial equality. Download here.
---
An Angel Just Like Me
Diocesan Christmas Project, 2021
An Angel Just Like Me was written nearly twenty-five years ago, but is still as relevant today. It is the story of African American boy Tyler's search for an angel that looks like him to put on the family Christmas tree. This makes a great prompt for encouraging children to think about the stereotypes and assumptions they make about the Christmas story and about the wider world they live in. We hope that the ideas in this booklet will inspire you to explore the story and the issues it raises, in a way that is relevant and memorable for the children in your class or school. This pack contains creative art ideas, Collective Worship resources and RE materials based on the Hampshire Living Difference 111 cycle of enquiry on Angels, with ideas suitable for both KS1 and KS2.
---
Suggested Reading
God Is Not a White Man: And Other Revelations
by Chine McDonald
Part memoir, part social and theological commentary on what it means to be a black Christian woman in the UK.
This book - and its author - is a profound gift to a Church that has much work to do. I commend it to all who are seeking a better, fairer future that truly reflects the face of Jesus Christ. -- Archbishop Justin Welby

---
Ghost Ship: Institutional Racism and the Church of England
by A.D.A. France-Williams
The Church is very good at saying all the right things about racial equality. But the reality is that the institution has utterly failed to back up these good intentions with demonstrable efforts to reform. It is a long way from being a place of black flourishing.
Through conversation with clergy, lay people and campaigners in the Church of England, A.D.A France-Williams issues a stark warning to the church, demonstrating how black and brown ministers are left to drown in a sea of complacency and collusion. While sticking plaster remedies abound, France-Williams argues that what is needed is a wholesale change in structure and mindset.
---
We Need To Talk About Race: Understanding the Black Experience in White Majority Churches
by Ben Lindsay
From the UK Church's complicity in the transatlantic slave trade to the whitewashing of Christianity throughout history, the Church has a lot to answer for when it comes to race relations. Christianity has been dubbed the white man's religion, yet the Bible speaks of an impartial God and shows us a diverse body of believers. It's time for the Church to start talking about race. Ben Lindsay offers eye-opening insights into the black religious experience, challenging the status quo in white majority churches. Filled with examples from real-life stories, including his own, and insightful questions, this book offers a comprehensive analysis of race relations in the Church in the UK and shows us how we can work together to create a truly inclusive church community.
---
Links
The Holocaust Memorial Day Trust
Holocaust Memorial Day Trust (HMDT) is the charity established and funded by the UK Government to promote and support Holocaust Memorial Day (HMD) in the UK.