---
The Big Prayer Picnic
Thy Kingdom Come Beacon Event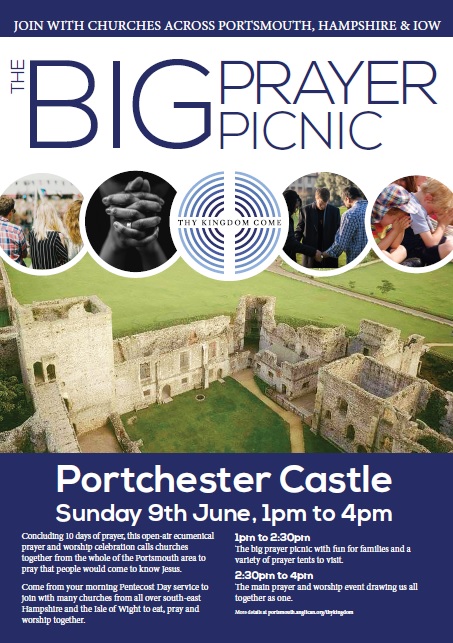 Concluding the 10 days of prayer will be The Big Prayer Picnic – an open-air ecumenical prayer and worship celebration, calling churches together from the whole of the Portsmouth area, at Portchester Castle on Pentecost Sunday 9th June:
1pm to 2:30pm - The big prayer picnic with fun for families and a variety of prayer tents to visit.
2:30pm to 4pm - The main prayer and worship event drawing us all together as one.
Come from your morning Pentecost service to join with many churches from all over south-east Hampshire and the Isle of Wight to eat, pray and worship together.
There will be parking for up to 1,000 cars in a nearby field bordering the castle. Download the printable A4 poster to help promote the event in your church. And read our frequently-asked questions about the event here.
Watch the video below as Andrew Hargreaves, organiser of The Big Prayer Picnic, shares more of the vision and purpose for the event.
---
Everything you need to know for this year's Thy Kingdom Come is grouped here below. Find ecumenical prayer events going on in your area, see what individual churches are doing, find resources to promote your event and engage people with the vision, and get your questions answered, particularly about the beacon event on Sunday 9th June.