A message from the Archbishop of Canterbury about Thy Kingdom Come 2023:
23 ideas for 2023
Thy Kingdom Come is sharing some tried and tested ideas for how your church could pray with other churches and other Christians, perhaps even from different denominations and traditions, to join in with Thy Kingdom Come in 2023. Prayer is what we do all year round, but this is a special opportunity to pray with others too. These ideas may spark other ideas. You will know best what will work in your tradition and context. Click here to download a PDF booklet containing 23 ideas for how you could take part in Thy Kingdom come in 2023.
Ways your church can take part in Thy Kingdom Come
As Thy Kingdom Come swiftly approaches, here are some simple ways your church can be involved:
Host a virtual or in-person prayer room, inspired by the Upper Room in the book of Acts. Sign up and unite your congregation in continuous prayer. Let us know so that we can post your event on this page.
Host an outdoor Pentecost Celebration Service – click on the link to download a PDF help sheet, and let us know what you plan.
Prayer walking – why not consider praying around your local community?
Host a Cheeky Pandas family service – why not host a special service using the Cheeky Pandas resources including video series, songs and prayer booklets?
Pray for 5 – using a simple visual aid, such as a bracelet with 5 knots or beads on, encourage people to take a few moments each day to pray for five different people. Here's a video by Rt Rev Dr John Sentamu with his thoughts on how to pray for 5.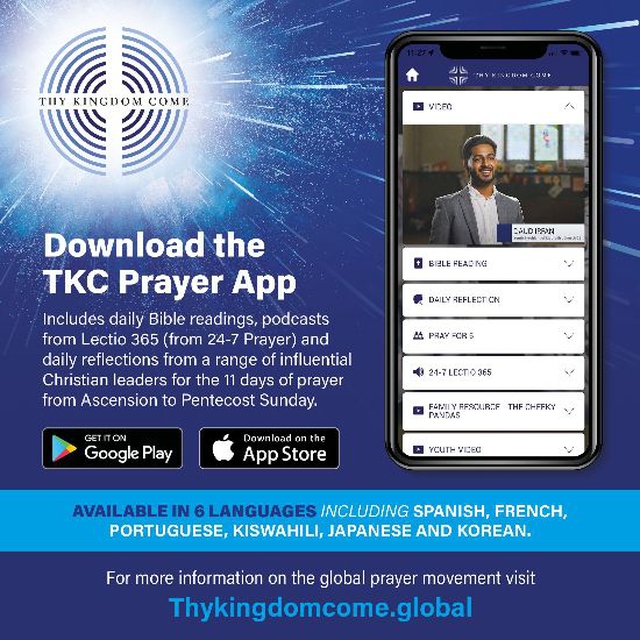 Thy Kingdom Come App
The award-winning Thy Kingdom Come App is back! The app is now live and is the perfect accompaniment for the 11 days of prayer. Available in several languages, the app contain all this year's key content including audio reflections from 24-7 Prayer, videos and Bible readings.
How to pray for others
Watch the inspirational video below, ahead of this year's Thy Kingdom Come, featuring the Way and Archbishop Justin Welby, encouraging us to pray for loved ones to come to faith in Christ. Head to youtube.com/c/TheWaychannel for more inspiring video content by and for young people.
Resources
Thy Kingdom Come are making available free bundles of the Prayer Journal and the Novena, both written by Archbishop Justin Welby, and the Cheeky Pandas children's book, churches just need to cover postage and packaging. The hope and prayer is that these resources will help disciple your congregation throughout the 11 days of prayer. Click here for details and to order.
The Novena booklet offers nine days of reflections on the book of 1 Peter, written by the Archbishop of Canterbury Justin Welby.
The Prayer Journal will help you focus your personal prayers throughout Thy Kingdom Come, with short Bible verses, reflections, responses and prayers.
To help younger readers grow in faith, the Cheeky Pandas return this year with more activities, stories and resources (including BSL versions of videos) as well as a brand-new video series on the Fruit of the Spirit being released on the Thy Kingdom Come Facebook page.
Prayer events
Catch up on previous years
---
Pentecost Sunday celebration
Catch up again on our Pentecost Sunday celebration, which marked the end of Thy Kingdom Come 2020. It included worship and creative prayer from across the diocese, and details of the practical action that our churches and church schools have been taking to help share God's love. Bishop Christopher also gave his reflection on Pentecost and Thy Kingdom Come.