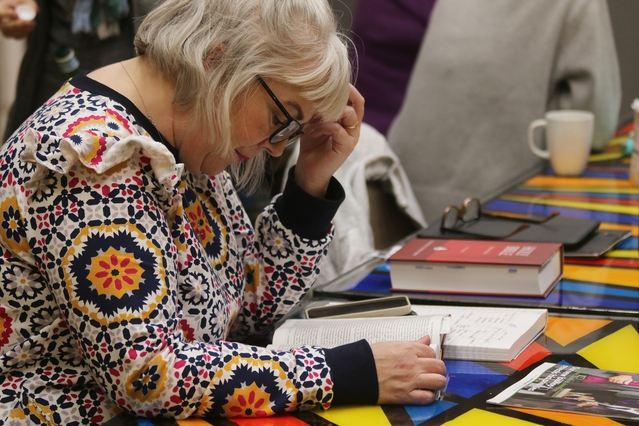 Portsmouth Pathway
The Portsmouth Pathway is our diocese's course for training licensed lay ministers and ordinands, in partnership with Ripon College Cuddesdon. It is based at St Luke's Church in inner-city Portsmouth, and combines the learning of academic theology, the development of skills for ministry and the encouragement of spiritual formation.
It was launched in September 2015 and mixes in-person training on a Tuesday evening at St Luke's with some residential weekends and weeks at Cuddesdon. Meeting to share a meal, different styles of worship and some academic input on a Tuesday night allows those in employment elsewhere to be part of this learning community. Those training to be Readers and clergy study together, to encourage collaborative ministry. The Director of the Portsmouth Pathway is the Rev Dr Richard Wyld who is supported by a range of academic tutors who are drawn from this diocese and further afield. His contact details are below.
You can read about the experience of two current students on the Pathway here.
---
Closure of the Portsmouth Pathway
In January 2023, we gave notice of our decision to withdraw from the partnership with Ripon College Cuddesdon and to close the Portsmouth Pathway. This will bring to an end the partnership between our diocese and Ripon College Cuddesdon, through which our ordinands and trainee Readers have been trained since 2015.
Since then we have been in discussion with Ripon College Cuddesdon about arrangements to bring the Pathway to an orderly end, with a clear focus by both parties on minimising the impact on the academic programmes of existing students. Both parties have now agreed that the partnership will end after the 2023/24 academic year, in July 2024. All those currently studying as part of the Pathway will be able to complete their training in partnership with Ripon College Cuddesdon by this date, or through alternative provision by Ripon College Cuddesdon if their planned programme extends beyond July 2024. In conjunction with Ripon College Cuddesdon, we will be speaking to all existing students individually to ensure that everyone's training needs are being met during this time of transition.
All those ordinands and trainee Readers beginning their training from September 2023 will do so under new arrangements.
Rev Dr Richard Wyld
The Portsmouth Pathway
St Luke's Church Centre,
Greetham Street,
Southsea,
PO5 4LH
E: email