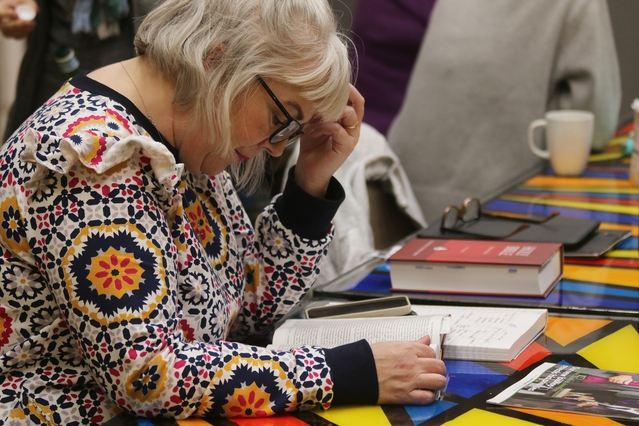 Portsmouth Pathway
The Portsmouth Pathway is our diocese's course for training licensed lay ministers and ordinands and is done in partnership with Ripon College Cuddesdon. It is based at St Luke's Church in inner-city Portsmouth, and combines the learning of academic theology, the development of skills for ministry and the encouragement of spiritual formation.
When it was launched in September 2015, it was the first time that ordination training had been offered within our diocese. The teaching takes place on Tuesday evenings during term time and at some weekends. This pattern of non-residential training enables students who are working full-time or part-time to train for ministry. One of the virtues of the course is that Readers-in-training and ordinands study together and so experience and recognise the benefits of deeply collaborative ministry.
The Director of the Portsmouth Pathway is the Rev Dr Richard Wyld who is supported by a range of academic tutors who are drawn from this diocese and further afield. The Tuesday evening sessions at St Luke's include a shared meal, worship which is led by the students, and more formal learning. In addition to the teaching on Tuesday evenings there are residential weekends at Cuddesdon for both ordinands and Readers-in-training. In addition, ordinands have one residential week at Cuddesdon per year.
The periods of residential study enable periods of more intensive study and enable students to meet those from other dioceses who are also preparing for public ministry. The three-year course leads either to a Higher Education Certificate or Diploma both of which are accredited by Durham University.
You can read about the experience of two current students on the Pathway here.
If you are interested in applying for a place, please contact:
---
Rev Dr Richard Wyld
The Portsmouth Pathway
St Luke's Church Centre,
Greetham Street,
Southsea,
PO5 4LH
Latest News
---
28 February 2022

Hear from some of those who have enrolled onto the Portsmouth Pathway, our local theological ... read more

8 April 2020

Our diocese and Ripon College, Cuddesdon, have announced a new Director of Portsmouth Pathway, their ... read more

9 March 2020

Liz Quinn went to Ghana for her placement, as part of her training to become ... read more