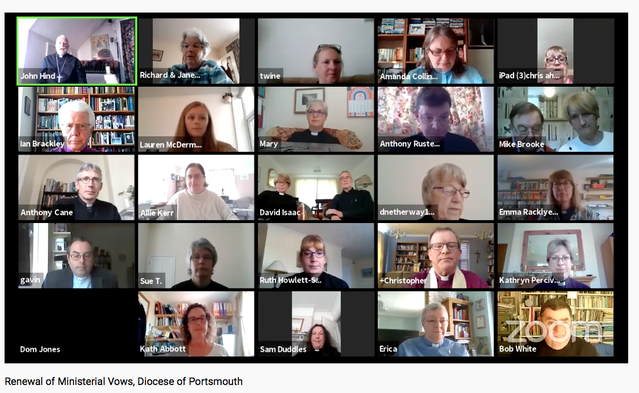 Coronavirus: video conferencing
Since the start of the coronavirus outbreak, the use of video conferencing software and apps rocketed, as work colleagues, family and friends all try to keep in touch while staying safe at home. Concerns about the security of some video conferencing methods have now been reasonably answered – especially the conferencing app that established itself during the lockdowns as the preferred choice, Zoom.
It uses the camera on your laptop, tablet or mobile phone and broadcasts video and audio from multiple people onto the same screen, so that you can all see and hear each other (as shown above). It is also possible for the host of the meeting to broadcast something else via their computer screen, meaning that attendees can watch videos or presentations together. A larger meeting can even be broken up into smaller groups or 'breakout rooms' by the host.
As a diocese, we have been using Zoom for meetings, but wanted to ensure that parishes and deaneries also took precautions to ensure the safety of all involved. Here are our tips:
Zoom is great for private meetings, Bible study groups, Alpha courses, youth groups and prayer meetings, where you know all those who are likely to attend and can invite them all privately. It is not ideal for public worship, where you would like anyone to attend. It is better to live-stream or record public worship via Facebook, Youtube or your website. Details of how to do so are here.
As the host, if you create or schedule a meeting, you will be given a nine-digit code to share with all those who would like to attend the meeting. Please do not share this code publicly. If you do, anyone can attend and therefore disrupt your meeting.
We would advise that you include a password for attendees to enter before they have access to the meeting. If you share this privately with those who you would like to attend, this provides an extra layer of security.
We would also advise that you use the 'waiting room' facility on Zoom, which means that the host can see who is trying to access the meeting, and can let each person into the meeting individually. Once all the invited attendees are in the meeting, you can 'lock' the meeting, so that no one else can access it.
As the host, do make yourself familiar with how you can mute all participants and even eject people from the meeting, if necessary. Please turn off the facility for people to join the meeting before the host, and the facility for anyone other than the host to share what is written on their own screens.
If you planning to make extensive use of Zoom, you may want to use a paid-for version which allows you to hold 'webinars'. These give the host more power to designate some people as 'panelists' (who can be seen and heard) and others as 'attendees' (who cannot). More details here.
If you are using Zoom with children's or youth groups, there are other considerations to bear in mind. Please check out the safeguarding advice from the national Church of England here.
As host, if you are planning to video the meeting, or to take screenshots of participants, you will need to ask permission of those in the meeting first. Only the host can record it, but anyone can take a screenshot of the meeting in progress. You may therefore want to make it clear at the outset that participants should only do so if everyone has agreed to this, for privacy reasons.
Depending on the purpose of your meeting, there are alternatives to Zoom, if potential attendees still have concerns about using it. They include Microsoft Teams, Skype, Google Hangouts, Facebook Messenger and WhatsApp video chats. These may be more suitable for chatting with family and friends, or catching up with parishioners than they would be for a formal meeting, but at least there are other possibilities.
Click here for the latest coronavirus updates: