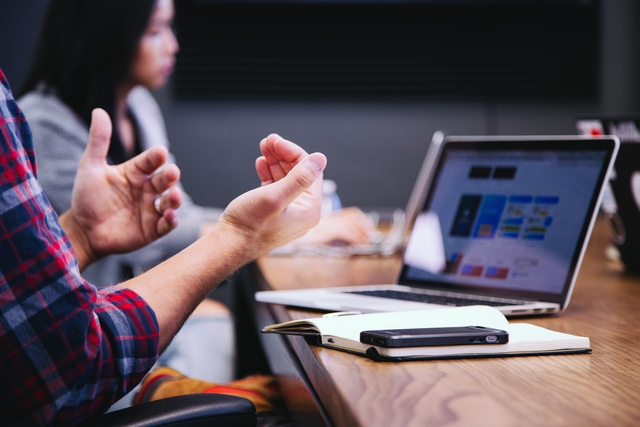 Coronavirus: advice about video
The closure of our churches might encourage clergy and lay ministers to 'live-stream' prayer and worship from their own homes, or to pre-record sermons, reflections or words of comfort. You might imagine that this is technically complex to do, but there are ways of doing so simply.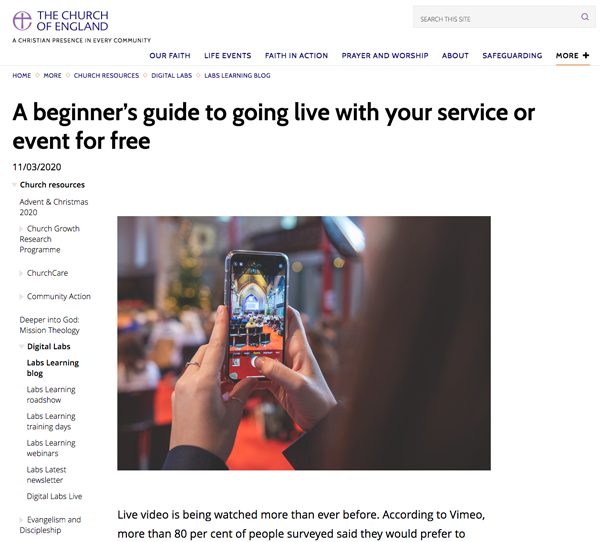 If you would like to read the full national Church of England advice about how to live-stream via Youtube, Facebook or Instagram, you can do so here. But if you'd rather just stick to one simple way of doing so, all you need is a decent Smartphone and good Wifi, and you can stream using Facebook Live. The instructions are as follows:
Tell those in your congregation and others that you plan to do this in advance, via email, social media and/or text.
Go to your personal or your church's Facebook profile and click the button that says 'Live', under the box that says 'What's on your mind?' (personal) or 'Create a post' (church page).
Add a title and a few words of description, and then click 'Start Live Video', when you are ready. If you are using your own personal profile, do make sure you've set it to 'public'.
The advantage of pre-recording material is that you can keep trying until you are happy with it. Here's some advice:
Record yourself using a video camera, tablet or Smartphone.
When you're happy with it, you can upload it to Youtube, your church's website, Facebook or Instagram (IGTV).
On Facebook, you can click a button that allows you to 'premiere' your video at a certain time, which means those following your Facebook page will be notified that it has started to play.
Whichever way you choose – live or pre-recorded – here are some guidelines for capturing good video and audio:
Don't stand so close to the camera that only your face fills the screen, but don't stand so far away that we can't hear you (many only have built-in microphones).
Try to speak clearly, look at the camera and smile.
You may also want to make sure that the device you're using is wedged in place to keep it still (or, even better, use a tripod).
Landscape or Portrait? If you are pre-recording your video then use your device in landscape (on its side). If you're going Live and you're leading an act of worship, use landscape. But if you are chatting, preaching or praying, use portrait. This is actually all down to the way audiences connect to and engage with what they're seeing.
Don't rush, take your time, and be aware of what your body is doing – don't fold your arms, or wave your hands about as you talk, or even put your hands in your pockets, just as you wouldn't during a conventional church service.
If you are filming indoors make sure you provide plenty of light. Fluorescent lighting is typically poor for filming, and your main room light might not be quite enough. Being in a naturally well-lit room can work well, as long as you are facing the windows through which the light is coming in. Do not stand in front of the windows as you'll become a silhouette on your video.
If you are filming outdoors, be aware of where the sun is and use its light as much as possible. Don't have the sun behind you, don't stand in shadowed areas, and be aware of what shadows the sun is casting on your face. The wind can be a hindering factor, not only in blowing your clothes and hair about but also being picked up by your device's microphone (you may not hear this until you view the recorded video back).
Take notice of what will be in the background of your video. If you are leading worship, you may want some kind of appropriate backdrop behind you. Check the titles of books/DVDs that might be in the background. Remove photos of children.
Do feel free to ask if you need further advice, by asking our communications team here. www.portsmouth.anglican.org/contact-communications/
---
Licences
If you are live streaming sung worship from your church's website, there are issues relating to copyright that you will need to address. You can get more information about that from the national C of E here (scroll down to their FAQ and click on 'can I still live stream?'). However, if you are live streaming via Facebook Live or YouTube, those issues do not apply as both platforms are covered by their own PRS licences. In any case, you are unlikely to be using sung worship in your services while public worship is suspended during the coronavirus outbreak.
If you want to use recorded music during a service that is being videoed or streamed, you'll need to apply for the Limited Music Online Licence. That applies whether you are streaming from your own church website or via Facebook. You can find details about that here.
Do feel free to ask if you need further advice, by asking our communications team here. www.portsmouth.anglican.org/contact-communications/
Churches that are live-streaming
Here's a list of churches that have been live-streaming their services, with links to where those livestreams are taking place. They may be live-streaming from people's homes on Sunday, but we can't guarantee it. Click on the links for each church to find out more.
All of these churches are using Facebook to stream their services, so you will need a Facebook account to watch them. Some will also be streaming on YouTube, which can be watched without requiring an account. To stay up to date with when services will be broadcast you should 'like' the church's Facebook Page and accept notifications of future broadcasts when asked.
If you would like your church added to this list, please contact our Communications team.