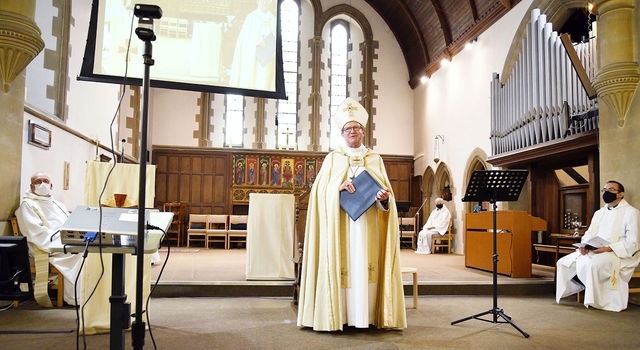 Live-streaming
The fact that not everyone can attend physical worship might encourage clergy and lay ministers to 'live-stream' prayer and worship from their churches, or to pre-record sermons, reflections or words of comfort. You might imagine that this is technically complex to do, but there are ways of doing so simply.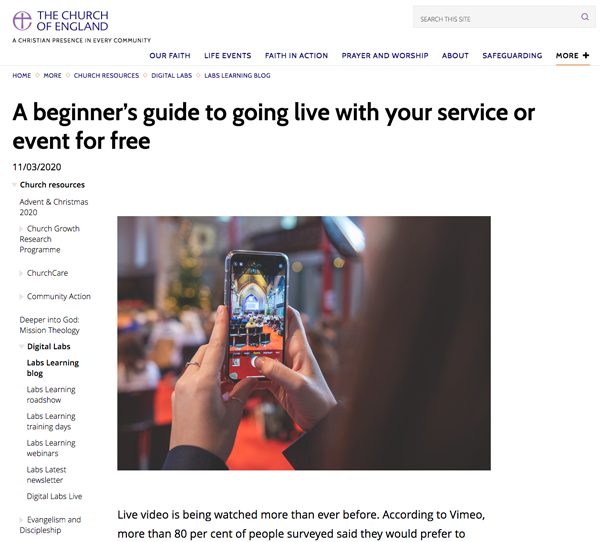 If you would like to read the full national Church of England advice about how to live-stream via Youtube, Facebook or Instagram, you can do so here. But if you'd rather just stick to one simple way of doing so, all you need is a decent Smartphone and good Wifi, and you can stream using Facebook Live. The instructions are as follows:
Tell those in your congregation and others that you plan to do this in advance, via email, social media and/or text. Ensure that any congregation member who would rather not be filmed can find a place in your church that won't be covered by a camera.
Go to your personal or your church's Facebook profile and click the button that says 'Live', under the box that says 'What's on your mind?' (personal) or 'Create a post' (church page).
Add a title and a few words of description, and then click 'Start Live Video', when you are ready. If you are using your own personal profile, do make sure you've set it to 'public'.
Here are some guidelines for capturing good video and audio:
Don't position the camera or phone so far away that we can't hear you (many only have built-in microphones). If you can, plug into the church's existing PA system, so that your audio feed is clear. Those watching my forgive shaky video footage, but if they can't hear, they'll just switch off.
Use a tripod to keep the camera or phone still.
Try to speak clearly, look at the camera and smile.
Landscape or Portrait? For live-steaming a church service, landscape (with the phone on its side) is usually preferable. This is actually all down to the way audiences connect to and engage with what they're seeing.
Try to ensure there is enough light falling on the main area that you will be filming, so that it doesn't look too dark.
There's some more detailed advice from an experienced producer for the BBC who now works as a priest in Blackburn diocese here. Do feel free to ask if you need further advice, by asking our communications team here. www.portsmouth.anglican.org/contact-communications/
Manchester Diocese has produced this very helpful video for those who are regularly filming videos for streaming through their parish social media platforms. It's packed with great advice and tips for producing well-presented, audible and engaging videos:
---
Licences
Which licence do you need?
With so many churches now streaming some kind of service through their website and social media platforms, and so much innovation going on with how to create the parts that go into an online service, there are understandably many questions surrounding what can be done legally, and which licences are required.
Licences only relate to the online activities of churches, and not individuals. So, for instance, if a member of your church films themselves singing a worship song they can then post that video on a social media platform without needing any kind of licence. The broadcasting of that 'performance' is covered by the social media's own PRS licences. It is quite possible that those social media platforms will flag a video if they think that copyrighted material is being used for monetised purposes (ie. you are using that video to then sell your own product, or you're receiving some kind of sponsorship through advertising), but this is down to the individual to manage.
Many musicians and singers are now producing videos at home, or playing worship songs and hymns live, for their church to use as part of their online services. For these videos to be streamed legally on social media platforms and on your website, the church needs to have a CCLI Streaming licence (even if the video has already been posted by the individual on their own accounts). This licence also covers adding lyrics to the worship song video. (There are legal requirements for adding lyrics to videos which include displaying the title and author of the song, the copyright holder and the church's CCLI licence number. This can be displayed in a small, non-imposing font size but they do have to be there during the broadcasting of the song). If your service is being streamed just on social media then you do not need the PRS Limited Music Online Licence, as the social media platform has their own PRS licence.
A new CCLI Streaming Plus licence is available that enables copyrighted recorded music to be played as part of a prerecorded or livestreamed service – for instance, an mp3 of a track released by a church or band. It also allows music groups and worship teams to use multitracks, or backing tracks, in a prerecorded or livestreamed service. Multitracks are songs that have the component musical parts separated out so that some or all of the backing music gets played. So for example, if you had just an acoustic guitarist available, you could have them play along to a multitrack song and you'd hear a full band playing too – piano and synth, electric and bass guitars, drums, even backing vocals, etc.
CCLI has also clarified that at least a basic Streaming licence is required when copyrighted music is used in a Zoom or Teams meeting or service, even if it isn't being livestreamed to a social media platform.
Having a CCLI licence of either kind will, unfortunately, not stop Facebook's or YouTube's copyright-checking algorithms from muting or removing your prerecorded or livestreamed service, but having one will make your case much stronger when you dispute the removal – which is becoming a lot easier now.
If you wish to play either your own home-recorded or other music videos as part of your online service via your website (regardless of whether you are also streaming or not on social media platforms), you will need the CCLI Streaming licence and the PRS Limited Music Online Licence. This is because your website is considered your own property and requires a licence to play copyrighted music. Unfortunately this part of your property is not considered part of your venue, for which you should already have a PRS licence for playing music.
It should be noted that most hymns are now in public domain and have no copyright restrictions on their use, but some special arrangements of hymn tunes or rewritten hymn lyrics will most likely be copyright protected and will therefore need a licence to use.
You can get more information about licences from from the national C of E here (scroll down to their FAQ and click on 'what is the guidance on live streaming and copyright?') or by contacting CCLI (you will need to know your CCLI licence number).
Do feel free to ask if you need further advice, by asking our Communications team.
Churches that are live-streaming
Here's a list of churches that have been live-streaming their services so far, with links to where those livestreams are taking place. They may well be live-streaming Sunday services, but we can't guarantee it. Click on the links for each church to find out more.
Some of these churches are using Facebook to stream their services, so you will need a Facebook account to watch them. Some will be streaming on YouTube, which can be watched without requiring an account. To stay up to date with when services will be broadcast you should 'like' the church's Facebook Page or Youtube channel and accept notifications of future broadcasts when asked.
If you would like your church added to this list, please contact our Communications team.