High Tide youth services
High Tide is what we call the monthly get-togethers of church youth groups from across the Portsmouth area. From 2018, they've met regularly for food, games, worship, teaching and prayer, visiting each other's churches and enjoying each other's hospitality and worship styles. It's a chance to deepen their discipleship, and help strengthen bonds between young people in different churches.
It's also ecumenical, including youth groups from churches of different denominations, from Emsworth to Southsea and from Crookhorn to Stubbington. Church youth groups in Fareham and Gosport have now created their own monthly youth services, now called High Tide West. That meant the original gathering of youth groups from around Portsmouth and Havant is now known as High Tide Central.
Both groups came together for:
We're now preparing for the latest High Tide summer residential, to take place in Luckley House School, Wokingham, Surrey. There will be two identical weeks, from August 12-16 and August 16-20, 2023. Full details below.
High Tide youth services 2023
The two programmes of monthly youth services (one for the Portsmouth area, one for Fareham/Gosport) will continue during 2023. The details of the monthly youth services are below.
Upcoming Events
---
Join other young people aged 11-18 from church youth groups across Portsmouth and Havant for ... read more

Young people from churches across Fareham and Gosport get together for an ecumenical youth service ... read more

High Tide is where church youth groups from all denominations join forces for the evening. ... read more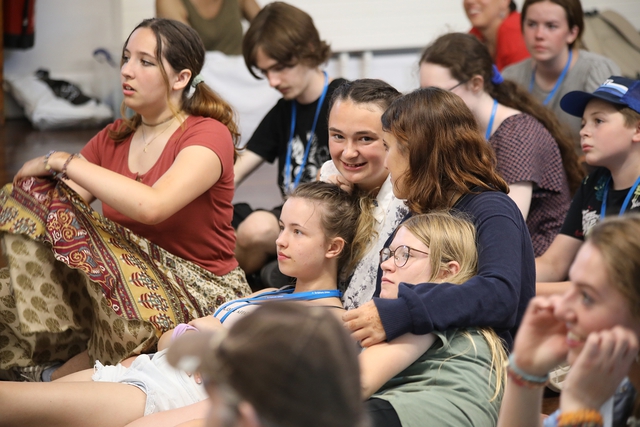 High Tide residential summer 2023
Leaders of youth groups from across our diocese will lead a summer residential for 11-8 year olds at Luckley House School, Wokingham, from August 12-16 and August 16-20. It will be organised in partnership with Scripture Union. Like last year, there will be amazing activities, inspirational worship, a brilliant set of teenagers to meet and committed youth leaders who will help to encourage a deepening of discipleship. The theme is LIGHT: 'Let It Glow High Tide'.
Both weeks will be identical, so young people should sign up to either Week 1 or Week 2. Parents can sign up their children using the links below. No deposit is needed yet, but news on that will come later. The cost of the holiday is £150, but some church youth groups will make their own arrangements for fundraising or subsidies for those unable to afford the full cost.
Week 1 (Saturday 12 August-Wednesday 16 August)
Week 2 (Wednesday 16 August - Sunday 20 August)
Please note that the young people must be in Years 7-13 to attend. Consideration will be given to those above Year 13 to attend as young leaders, as space allows.
Previous High Tide holidays
High Tide residential: April 2022
In April 2022, the first High Tide residential took place in the Westbrook Centre on the Isle of Wight. Fifty 11 to 18-year-olds enjoyed paintballing, swimming, creating tie-dye t-shirts and learning bushcraft - as well as learning more about God through worship, teaching and prayer. Read more about that here, watch the video below, and see all the photos here.
High Tide residential: August 2022
They enjoyed their weekend in April so much that a summer High Tide residential was arranged for August 2022. Almost 30 young people from nine churches went to Luckley House School in Surrey for a four-day break based around TV game shows. It included Bake Off, Hunted, Taskmaster, Repair Shop and Million-Pound Drop activities, plus lasertag, a silent disco, worship, teaching and discussion. You can read more about it here, watch the video below, and see all the photos here.