Giving through the Parish Giving Scheme
The Parish Giving Scheme (PGS) is a highly efficient and well-developed system to help local churches manage and develop their planned giving.

Gifts to your local church are made by direct debit on the first of the month. PGS then claims all the gift aid due. On the 10th of the month your parish will receive all the donations due to them in one lump sum. Then, as soon as the Gift Aid is received from HMRC, PGS will make a second lump sum to payment to your parish, consisting of all the gift aid received on behalf of your parish.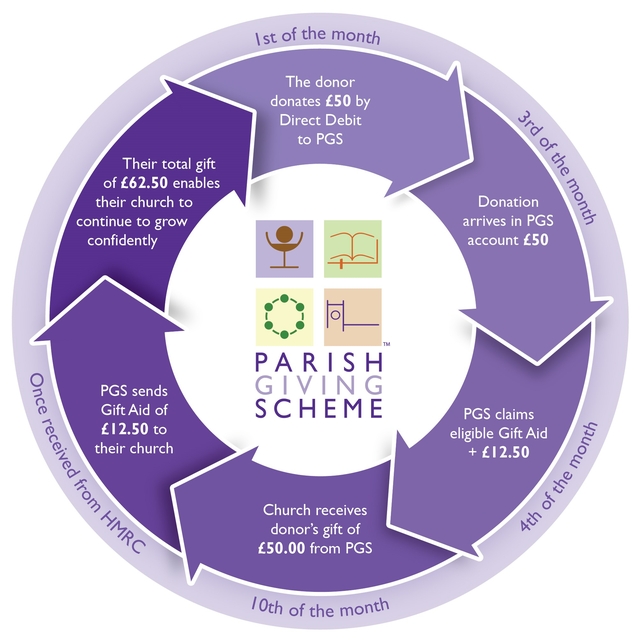 One of the main challenges faced by churches is static giving and this is where PGS can really help your church. PGS gives donors the ability to increase their giving annually in line with inflation – it is donor's choice as to whether they opt into this element of the scheme.
Frequently Asked Questions about PGS
Find out more about PGS as a Charitable Company
(Ltd Company No: 8824540; Registered Charity No: 1156606)
You can give through the PGS if your parish is registered with PGS (over half of the parishes in our diocese are now registered with PGS). If your parish is registered then you are encouraged to give in this way as it promotes Christian stewardship and benefits both your church and donors alike.
---
New digital service
PGS has launched its digital service to new donors. If your parish is a member of PGS you will now be able to set up a new donation to your parish online, in 3 easy steps:
Find your parish on the PGS website
Register for and activate your new online account
Set up your donation – at this stage you may also automatically add an annual inflationary increase and claim Gift Aid.
Click here for further details.
Further enhancements will follow, including the ability for existing donors to update their donations. For those parishes not currently registered with PGS, there will be the opportunity to register your interest, in donating this way in future. If you have any questions regarding this new initiative, please contact Chris Parker.